Franklin, popular on trade market, is on Tigers' list of SS candidates
Mariners shortstop Nick Franklin is being evaluated as a possible replacement for the injured Jose Iglesias.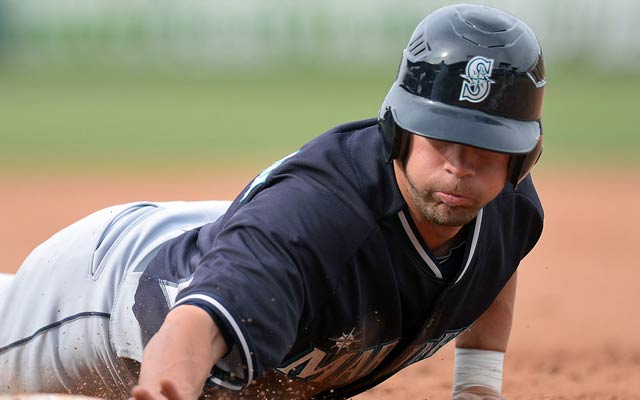 More Tigers: Iglesias likely to miss all of next season | Spring Training
VIERA, Fla. -- Add Nick Franklin to the list of potential Tigers shortstop candidates.
Detroit has been canvassing baseball in hopes of finding a suitable replacement for starting shortstop Jose Iglesias, who very well may not play in 2014 after shin fractures were revealed in both legs. Diamondbacks shortstops Chris Owings and Didi Gregorius, plus free-agent shortstop Stephen Drew have been considered possible candidates, but the Tigers are said to be looking into Franklin, as well.
Franklin is available, with the Mariners going with Brad Miller at shortstop, and top free agent Robinson Cano taking the second-base spot. The Rays, Mets and Orioles are among other teams to show interest in Franklin.
The Mets have been scouting Franklin to see whether he'd make a viable defensive shortstop, but one rival executive rated Franklin as "average to a tick below," suggesting he's comparable to Jhonny Peralta, the Tigers shortstop for most of last season.
Tigers president and general manager Dave Dombrowski acknowledged the team was loking around while suggesting they aren't deep in trade talks yet with anyone. Manager Brad Ausmus suggested he might take up until Opening Day to announce the shortstop plan, with Danny Worth and Hernan Perez the main in-house candidates at present.
Worth and Perez are seen as adequate defensively, but the trade targets (and of course Drew) would provide more offense. Franklin's calling card is his power; he had 12 homers last year as a rookie.
Dombrowski said Iglesias is "more unlikely than likely" to play this year but didn't rule it out entirely. Dombrowski said he's been informed Iglesias, a defensive whiz, will be ready to play by 2015.
Plus the Indians are now 27-1 in their last 28 games. Here is everything you need to know from...

The soon-to-be 43-year-old Dickey said he wants to spend more time with his family

The two NL Central rivals opened a four-game series at Miller Park on Thursday night
The ballparks in Cincinnati, San Diego and Seattle will have expanded netting in place by Opening...

Mondesi spent six years as the mayor of San Cristobal in the Dominican Republic after reti...

The veteran skipper has been Mets manager since the start of the 2011 season