Fredi Gonzalez believes B.J. Upton, Dan Uggla can bounce back
The Braves won 96 games and the NL East in 2013 despite awful campaigns from B.J. Upton and Dan Uggla. Can they bounce back? Manager Fredi Gonzalez thinks so.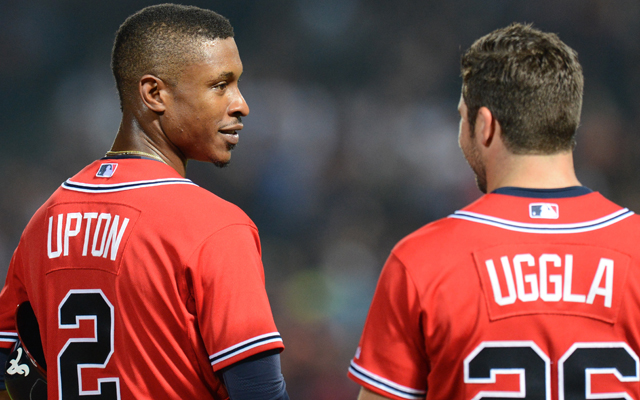 MORE: FA tracker: position players | FA tracker: pitchers | Winter Meetings updates
ORLANDO - Despite running away with the NL East by winning 96 games, the Atlanta Braves were not without issues in the 2013 season. Specifically, two regular starting position players endured nightmare seasons: Second baseman Dan Uggla and center fielder B.J. Upton.
With Uggla, he was left off the postseason roster after hitting .179/.309/.362 in the regular season. He did hit 22 homers and drew enough walks to have a decent on-base percentage -- at least considering how low the average was -- two facts that weren't lost on manager Fredi Gonzalez.
"Here's a guy that his first five seasons of his career he's done something that no other second baseman has ever done in the history of our game," Gonzalez said, referencing Uggla becoming the first second baseman in MLB history to hit at least 30 homers in five straight seasons. "This year when he hit .180, he still hit 20 home runs and walked a bunch. So it's still there, you know?"
"We've got to get him fixed," Gonzalez said, but he does believe that will happen. "He's a competitor and I think he'll be fine."
Upton, 29, was coming off a season in which he had 29 doubles, 28 homers and 31 stolen bases -- making him one of the best power-speed combo players in the league. In 2013, though, he hit just .184/.268/.289 with 14 doubles, nine homers and 12 steals. Come playoff time, he was rendered to little more than a defensive replacement.
"There is a lot of talent there," Gonzalez said of the elder Upton. "There are a lot of tools that we talk about, and there is a lot of potential there still. So we're going to try and get him what he was in Tampa, that guy that we wanted."
Gonzalez said that the club hasn't done anything with Upton yet this offseason but that will change in the very near future, as Upton recently started hitting again in Tampa.
"Our plans are for [hitting coach] Greg [Walker] or [assistant hitting coach] Scott [Fletcher] or both or all three of us to go either down to Tampa or if B.J. comes up to Atlanta, to spend some time with him. We'll get him going," Gonzalez said.
If Gonzalez is right and both players have bounce-back seasons, the fact that the Braves appear to be adding few pieces from outside the organization this offseason should be offset by the improvement of Uggla and Upton.
If he's wrong about both, the Braves will certainly have a hard time winning 96 games again.
Despite a seven-game ALCS, the Houston rotation lines up nicely for the World Series

Sabathia and the Yankees are a perfect fit for each other

Bregman threw out Greg Bird at the plate to preserve the Astros' lead
The 2017 World Series begins Oct. 24

The Yankees returned to contention even quicker than their front office expected

The Dodgers have the better defense, rotation, and bullpen, in our estimation