Free agent A.J. Burnett 'undecided,' considering retirement
A day after the Pirates decided to not give A.J. Burnett a qualifying offer, his agent told a local newspaper that Burnett remains undecided on whether or not to retire from baseball.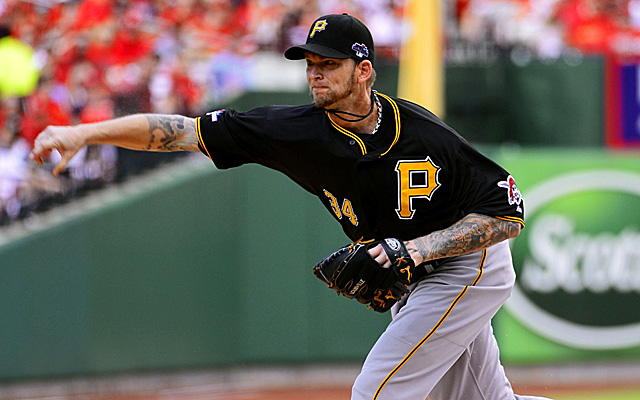 One might recall back in March that Pirates pitcher A.J. Burnett discussed the possibility of the 2013 season being the final one of his MLB career. Tuesday, after the Pirates did not tender him a qualifying offer (which would have been a one-year deal for $14.1 million), Burnett's agent told triblive.com that he is "undecided."
Burnett has previously said he wouldn't want to play anywhere else after this season than with the Pirates. The Pirates could still bring him back for less than the $14.1 million, so it's possible he comes back for one more season.
Still, the Pirates always have a limited budget. Without Burnett, they'd be able to run out a 2014 rotation as follows: Francisco Liriano, Gerrit Cole, Wandy Rodriguez, Charlie Morton and Jeff Locke even if they made no other acquisitions. Also on the radar is top pitching prospect (now that Cole isn't a prospect anymore, of course) Jameson Taillon, who made six starts in Triple-A in 2013.
Burnett will be 37 next season. He was productive in 2013, going 10-11 with a 3.30 ERA, 1.22 WHIP and 209 strikeouts in 191 innings pitched. He's pitched in parts of 15 seasons in his career. He's never made an All-Star team, but otherwise it seems like he's done pretty much all he can. He won a World Series ring with the 2009 Yankees and also got one for the 2003 Marlins, though he was injured and didn't participate. He's eclipsed 2,000 career strikeouts and he was just a part of the streak-breaking Pirates team that broke through to make the playoffs for the first time since 1992. He also has a no-hitter on his resume.
Further, Burnett has made over $120 million in his career and has two kids, ages ranging from nine to 13. So if he decides he's ready to walk away, it's hard to blame him.
Mark Appel was one of the players being moved about on Monday night

Garrett Cooper is the answer to a trivia question

We still don't know if Ohtani will be jumping to the majors yet
Kinsler is a free agent next winter

Opening Day will be Thursday, March 29 -- the earliest opening day in MLB history

The World Series champion and big-time wrestling fan was on hand Sunday night