Free agent infielder Keppinger suffers broken fibula in fall at home
Keppinger still hopes to be ready by spring training. Teams are going over the medical reports following his surgery.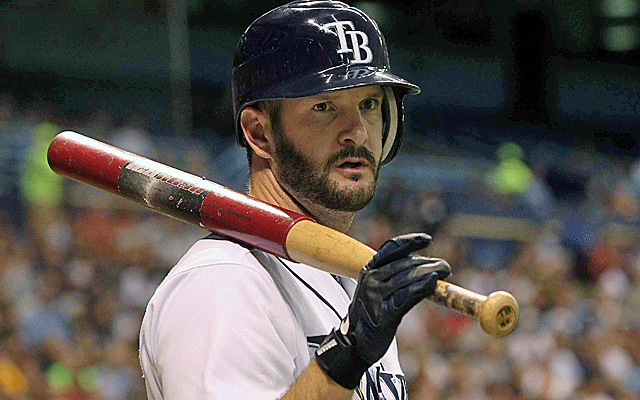 Keppinger should be ready in plenty of time for spring training.
(US Presswire)
As timing goes, Jeff Keppinger's could not have been much worse.
Primed to capitalize on a breakout 2012 season in which he hit a career-high .325, the free agent infielder recently suffered a break in his right fibula tripping down some stairs at his house. The break, described as a small one in the calf by major-league sources, has been repaired surgically. He is at home recuperating.
Keppinger is said by sources to hope to be ready by mid-January and certainly by the start of spring training. Interested teams, aware of the injury, have been perusing medical reports. Keppinger's agent Keith Grunewald has been said to be very transparent about the injury, though Grunewald declined to comment to CBSSports.com.
Keppinger still should do well this winter, as the infield market is amazingly thin. After Adam LaRoche and Kevin Youkilis, the best available infielders are probably October hero Marco Scutaro, plus Eric Chavez, who had a brilliant season as Alex Rodriguez's backup and even started a few games for A-Rod in the playoffs, shortstop Stephen Drew and Keppinger, who hit .325 for the Rays.
The Yankees, looking for backup help on the left side of the infield, are considering Keppinger, as FoxSports.com reported, as well as Chavez and Drew. The Diamondbacks and about a half-dozen other teams are said to have an interest, as well. He and Chavez should have similar markets as versatile infielders who can hit.
Productive players should do very well in this market, even if they aren't full-time players, especially after Jonny Gomes received a $10M, two-year deal with the Red Sox. Keppinger is extremely versatile as well as being a fine hitter (he had nine home runs) who occasionally even batted cleanup in Joe Maddon's funky lineups.
Things could not have been going much better for him until the home accident.
No. 3 Texas Christian is looking to ruin Long Beach State's return home

Martinez's physical isn't taking much longer than usual

The Rangers have a lot riding on Mike Minor and Matt Bush
Though the process is far from complete, taxpayers got good news Thursday

Dickerson had been designated for assignment by the Rays last week

Honeywell is considered a top 15 prospect overall in baseball