Free-agent roundtable: Candidates to join the 'worst contracts' list
Every winter, inevitably, some free agent signs a contract that turns into one of the worst in baseball. Let's discuss who that might be this offseason.
by

Eye on Baseball staff

• 2 min read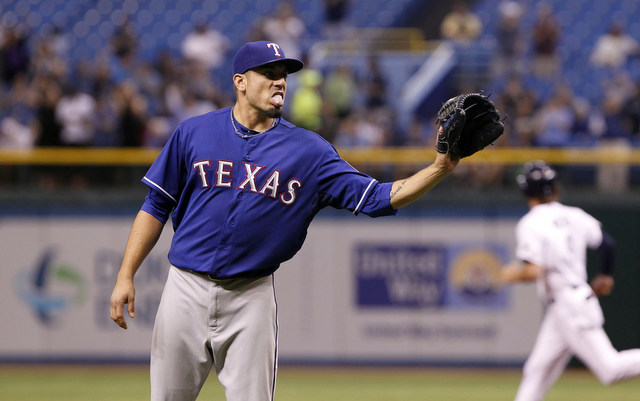 Free-agent roundtables: Yanks/Cano | Cruz, Peralta/Biogenesis | Reclamation projects | Ellsbury-Epstein reunion? | What next for Angels? | How much will McCann get? | Overpaying for so-called proven closers | Mid-level value players
Every single season, without fail, it seems there's a contract in free agency -- or an extension to stay put for guys approaching free agency -- that will eventually find its way onto "worst contract" lists around the web. This year will surely be no different.
The question is, who will it be?
Matt Snyder: I'm going with Matt Garza. Tim Lincecum just re-upped with the Giants for $17.5 million a year. It could well prove an outlier, but agents of the better starting pitchers on the market damn well noticed. Jon Heyman had a general manager estimate Garza would get five years and $85 million.
I would pass on that.
Due to arm and oblique issues, Garza was only able to make 18 starts in 2012 and 24 in '13. He was effective with the Cubs in those two seasons for the most part, but he wasn't dominant. He was also very fortunate on balls in play and his FIP shows he was overperforming. While with the Rangers, he only managed two quality starts in 11 tries in August and September (Note: He was good with the Rangers for his first two starts, which came in July).
Over the course of Garza's career, he has been good, but his 108 OPS+ against shows he's not much better than league average. As he ages -- and, again, he hasn't had a full healthy season since 2011 -- it will be pretty tough to merit $17 million a year.
Dayn Perry: I'll say Nelson Cruz. I think he's going to command a pretty healthy contract, but I'm not sure why. He can't get on base at an adequate clip by corner outfielder standards, he's not a good defender, and I don't think his power will play outside of Arlington (he's a career .242/.299/.435 hitter on the road). He's already 33 years old, and his base-running decline indicates he's already losing a step. That loss of speed plus body type lead me to believe he won't age well. My guess is Cruz commands a three- or four-year deal on the market. That kind of commitment plus the sacrificed draft pick (the Rangers made him a qualifying offer) add up to a bad deal, at least in my opinion.
Mike Axisa: Well, Garza and Cruz were the first two names that jumped to my mind, so I guess I drew the short straw. I'll go with Jacoby Ellsbury, who seems like a lock for a nine-figure deal. Don't get me wrong, Ellsbury is an excellent player, but paying $100 million for a guy who just turned 30 with a game that depends so highly on his legs has disaster potential. He did hit those 32 home runs in 2011, so there is some power in there, but he has only hit 13 homers since and 33 total in the other six years of his career. That season seems like a huge outlier. Once Ellsbury's legs start to go and he can't contribute as much on the bases or in center field, his value will go south in a hurry.
The Dodgers and Braves pulled off a whopper on Saturday

Sabathia will reportedly spend a 10th season in the Bronx

Fowler suffered a knee injury at Chicago's Guaranteed Rate Field
The lefty starter is coming off a terrible season

After acquiring Ian Kinsler and Zack Cozart in recent days, the Angels are trending upward

Cozart's coming off a big season as the Reds' shortstop