Free-agent roundtable: Finding good value in mid-level guys
Some near-contenders may be three or four pieces away from a World Series, like the Red Sox were last winter. Who would make some good value signings this offseason?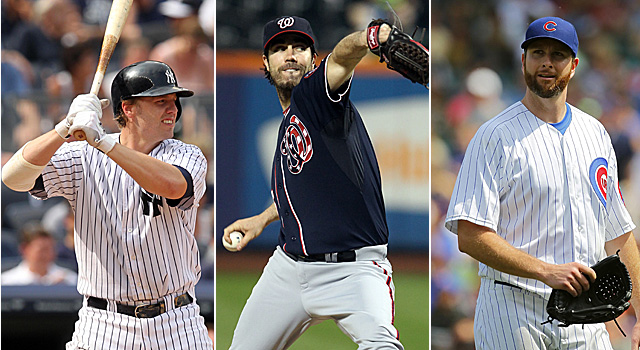 Free-agent roundtables: Yanks/Cano | Cruz, Peralta/Biogenesis | Reclamation projects | Ellsbury-Epstein reunion? | What next for Angels? | How much will McCann get? | Overpaying for so-called proven closers
Much has been made about the Red Sox's formula for the 2013 season, which landed them a World Series championship. Which is to say: Instead of spending huge on long-term deals for superstars, they brought in a litany of mid-level to even lower-level free agents and retooled their ailing roster. So now, many pundits are calling for teams to take this approach heading into this hot stove season.
The problem with a lot of this talk is it ignores the outstanding foundation already in place: David Ortiz, Dustin Pedroia, Jacoby Ellsbury, Jon Lester, Clay Buchholz, etc.
So it's a lot easier said than done and only a few teams are in position to take a similar strategy -- and, by the same token, able to spend the money in order to do so.
Some of those teams might be the Orioles, Blue Jays, Angels, Nationals, Phillies(?), Diamondbacks, Giants and maybe the Rockies, if they could actually stay healthy for once.
So for clubs in that position, who are some of those mid-level free agents that could be a good piece of a championship puzzle?
Matt Snyder: Carlos Ruiz immediately comes to mind at catcher. I feel like he's not going to be in high demand, he works well with pitching staffs, has winning experience, is by all accounts a good clubhouse guy and is one year removed from an excellent offensive season.
Should Stephen Drew hit the open market, he's an excellent candidate, obviously, having been one of these pieces for the Red Sox in 2013.
Omar Infante would be a great fit for teams like the Orioles or Blue Jays, too.
I mentioned Joe Smith and Jesse Crain in Wednesday's roundtable on relievers, but as a starter, what about Bronson Arroyo? He has been league average or better in four of the past five seasons and is always around 200 innings pitched (he has thrown at least 199 for nine consecutive seasons).
Dayn Perry: Wholeheartedly agree on Infante. Very consistent, underrated player. Not a star, but a league-average hitter who can hold down an up-the-middle position has value. Scott Kazmir's another name. I think his layoff and injury history will tamp down his price, but the velocity and underlying numbers he posted in his comeback season were impressive. I like him moving forward, particularly at what I think will be a nominal cost. If healthy, Crain is one of the most consistently excellent relievers around.
I also like the idea of signing Josh Johnson to a one-year "prove it" deal. If a contender undertook this approach, they get a guy with a strong pre-2013 performance record, and Johnson gets a shot to re-enter the market after the 2014 season on stronger footing. It's not a long-term solution, obviously, but a team going for it next season could benefit from such a single-year fix.
Mike Axisa: Scott Feldman stands out to me. He'll probably get half the guaranteed money as Matt Garza but finish the year with a similar ERA and innings total. He showed this past season he's beyond the knee injury that hampered him in 2011 and '12. Kelly Johnson has been a personal fave for a while and, as long as you're willing to live with some strikeouts, he'll provide power at second base and play solid defense. He would be an upgrade for many teams.
Dayn Perry: Dan Haren is another guy I'm intrigued by in the short-term. Awful first half, meh overall numbers, but a 3.52 ERA and stellar 5.00 K/BB ratio after the break. I can see him posting a sub-4.00 ERA with a qualifying number of innings in 2014. That would be nifty at the back of a rotation.
Matt Snyder: Any thoughts on Mark Reynolds? He's 30 and coming off a relatively bad season, but I still feel like you can get 30 homers and a .330 OBP out of him. For that power, he could be a decent fit at first or DH for a fringe contender.
Mike Axisa: I'm a Reynolds fan. Right-handed power is very hard to find and he still provides plenty of it. He'll draw a bunch of walks and yes, strike out a ton, but that's the tradeoff for a legit 30-homer bat that should cost $5 million or so. Have him split time between first base and DH and bat him toward the bottom of the order and you're golden.
Dayn Perry: Speaking of right-handed power, I don't pretend to know whether or not Corey Hart can stay healthy (he missed the entire 2013 season after January knee surgery), but I like his bat. Over his past three seasons (2010-12), he batted .279/.343/.514 with 87 homers in 424 games. That's good production, and he has also been pretty effective against same-side pitching. Maybe that right knee means he needs to be a DH, but I think he would be a nice fit in, say, Baltimore or maybe Texas.
There's now a crowded outfield in San Diego

The former Braves star served as a race official for the Daytona 500

He'd be a good fit in the Bronx, but can they make it work and still stay under the luxury...
The slugger had shoulder surgery in November

Tebow reported to spring training with Mets position players on Sunday

Santa Clara senior Jake Brodt did the honors Saturday