Free agent roundtable: Overpaying for 'proven closers?'
Lots of so-called proven closers are on the free agency market, which means several teams are likely to overpay for one. Let's discuss.
by

Eye on Baseball staff

• 4 min read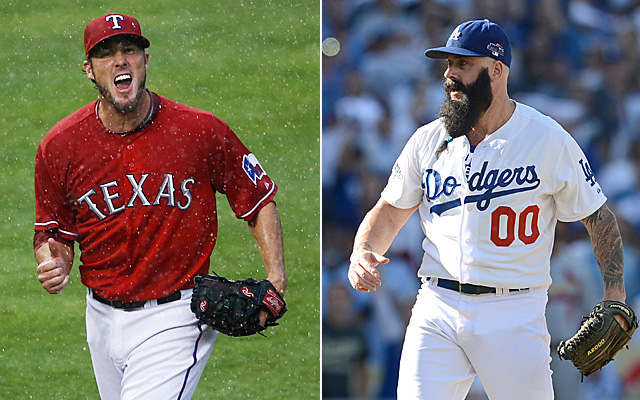 Free-agent roundtables: Yanks/Cano | Cruz, Peralta/Biogenesis | Reclamation projects | Ellsbury-Epstein reunion? | What next for Los Angeles Angels ? | How much will McCann get?
The free agent market is loaded with closers this winter. Joe Nathan , Grant Balfour , Joaquin Benoit , Fernando Rodney , Chris Perez ... they're all out there waiting to be signed. Clubs like the Detroit Tigers , Angels, New York Yankees , Tampa Bay Rays and Cleveland Indians figure to be in the market for a ninth inning arm.
Closers tend to be overpaid in free agency. What reliever most appeals to us?
Mike Axisa: Personally, I am very intrigued by Brian Wilson . He returned from his second Tommy John surgery with the Los Angeles Dodgers late in the year and a) pitched well (one run in 19 2/3 innings, including playoffs), and b) threw the snot out of the ball (sat mid-90s with his fastball according to PitchFX). Look past the beard and the seemingly insufferable personality and you've got a 31-year-old who misses bats with power stuff and has pennant race/World Series experience. That's what everyone wants in a closer.
I don't know what kind of contract Wilson can get this offseason, but I suspect someone will pony up a two-year deal and their closer's job. I prefer him to Benoit, Rodney and Perez, that's for sure. Nathan will turn 39 in a few weeks and Balfour is likely to receive a huge contract based on the season he just had. Relievers are inherently risky and Wilson might be the riskiest coming off his second elbow reconstruction, but I think there's an awful lot of potential reward here as well.
Matt Snyder: Nathan and Wilson are the most sure bets to me, and that kind of typifies how difficult it is to sign someone reliable in free agency when it comes to a "proven closer." One is almost 40 and the other has had two Tommy John surgeries. I'd much rather grab one to three non-closers who have shown the ability to get tough outs in most situations. Think Koji Uehara last year. Now, obviously, the Boston Red Sox had no idea they'd get such domination upon signing him, but that's much better than the Angels signing of Ryan Madson or even the Philadelphia Phillies deal two years ago with Jonathan Papelbon .
So I'm looking at Jesse Crain . He's been good for several years and his strikeout rate has gone from 7.2 (K/9) in 2008 to 11.3 in both 2012 and 2013. I'd rather go after Crain than "proven closers" Rodney (who will never recreate 2012), Perez, Benoit, Edward Mujica and Francisco Rodriguez .
If he's too expensive -- and after an All-Star season, he could be in the minds of some -- what about Joe Smith ? Over the last three seasons, he's worked an average of 66 innings, posting a 2.42 ERA and 1.16 WHIP. I'd take him in a heartbeat over "proven closers" Frank Francisco , Kevin Gregg , Joel Hanrahan , Kyle Farnsworth and Carlos Marmol .
Axisa: We see every year that relievers come out of nowhere to become good closers and I'd definitely take a great non-closing reliever like Smith over a proven closer like Gregg, but I think "making" a closer is more difficult than people realize. The Rays have become pretty darn good at it but other teams are mostly hit or miss. Relievers in general are unpredictable so cheaper is the way to go, but there is something to be said for paying big for a guy like Papelbon or Nathan. It makes sense for a contender like, say, the Tigers to go big at closer since they're basically just a bullpen away from a World Series title. At some point the closer track record becomes too much to ignore.
Snyder: Oh, if I'm the Tigers I'm absolutely going hard after Nathan. I was speaking generally. Someone like the Angels, for example, needs multiple arms. Smith and Crane could be great fits there and might be able to cover the eighth and ninth together.
Axisa: Agreed. If you're going to go the "make a closer" route, you need to bring in as many quality relievers as possible. It sounds obvious but it's much easier said than done.
Dayn Perry: As implied above, I think the elite closers -- the retired Mariano Rivera , Nathan, Craig Kimbrel , for instance -- are the only ones worth paying the going rates for. If you're a team like the Tigers who pretty much has everything else in place, then overpaying for certainty in the ninth inning is justifiable. I don't think proven closers, by virtue of the fact that that they face even 300 batters in a season, are good investments, at least given recent and market rates. But there is that handful of teams that can't really afford to experiment and get creative. As such I love Nathan and Wilson (I sign on to everything Mike said above about Wilson) for Detroit. Otherwise, seek out those fastball-slider middle relievers without glaring platoon issues and give them a try. Better yet, damn the experience factor and give an in-house live arm a shot. Not every team has the St. Louis Cardinals ' stable of young arms, of course, but you don't need an embarrassment of riches.
On another level, I buy that there's something to the "closer mentality;" however, I'd argue that mentality -- being immune to pressure and the moment -- is the norm among guys who have pitched their way to the highest level. Those who lack the "closer mentality" would be the exception, in that most of them are weeded out before they reach the majors.
Snyder: Exactly. Mentally weak players don't get to the majors, which is one of the reasons I hate reliance in RISP numbers for hitters, but that's a different topic for a different day.
Plus the Indians are now 27-1 in their last 28 games. Here is everything you need to know from...

The soon-to-be 43-year-old Dickey said he wants to spend more time with his family

The two NL Central rivals opened a four-game series at Miller Park on Thursday night
The ballparks in Cincinnati, San Diego and Seattle will have expanded netting in place by Opening...

Mondesi spent six years as the mayor of San Cristobal in the Dominican Republic after reti...

The veteran skipper has been Mets manager since the start of the 2011 season