Free-agent roundtable: Reclamation projects worth a gamble
Our latest roundtable discussion looks at potential reclamation project free agents, guys coming off injury or poor seasons.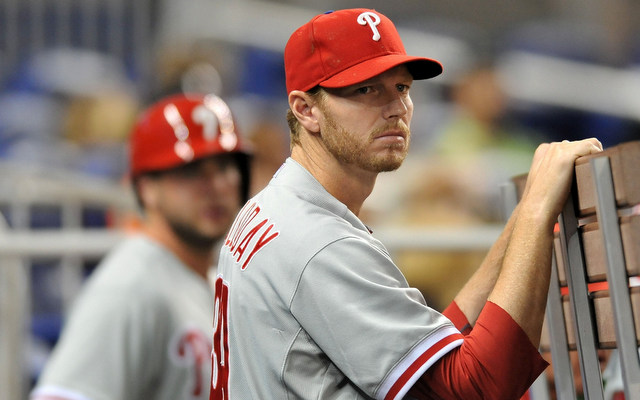 FREE-AGENT ROUNDTABLES: Yanks and Cano | Cruz, Peralta and Biogenesis
Every winter teams look for bargains and undervalued players who manage to slip through the cracks. A lot of times they'll gamble on so-called reclamation projects -- the guys coming off injury or a down season for whatever reason. This free agent class will be no different and there are plenty of those players available.
Who are some reclamation projects that interest you this offseason?
Mike Axisa: With Tim Lincecum having already re-upped with the Giants, the biggest reclamation project pitcher is Roy Halladay. He had shoulder surgery in May and looked nothing like a big league pitcher when he returned with iffy stuff and spotty command in September. Still, the track record is hard to ignore.

I have a tendency to be a little risk-averse with these sort of players, but there is something to the idea of Halladay being healthy in Spring Training and further away from surgery. He'll also have a "normal" offseason workout routine. I don't think Doc will ever go back to being the guy he once was, but gambling a few million (plus incentives) is a plunge a lot of teams figure to be willing to take.
Matt Snyder: It's funny you mention Lincecum, because he's the first guy I thought of when we mentioned this topic. He would've been a real interesting guy on the free agency market and from a sheer spectator-sport-drama perspective, I'm a little disappointed he didn't hit the open market. Halladay's a great call.
Here are a few others that come to mind:
- Josh Johnson: He was one of the best in baseball in 2010-11, but multiple surgeries seem to have taken their toll and he was brutal last year when he wasn't on the DL. He's only 29, though, and has immense talent.
- Franklin Gutierrez: Exceptional defensive center fielder who hasn't been healthy in years, but could be productive if he ever finds a way to stay healthy. At 31, he's definitely not too old.
- Rafael Furcal: He hasn't played since 2012 and is coming off Tommy John surgery, but he might have something left in the tank.
- Grady Sizemore: We know about the significant injury issues, but we also know about the huge upside. He's still only 31.
- Shaun Marcum: It's been a few years since he was either healthy or productive -- and he was brutal last year -- but he's not old and he nearly helped the 2011 Brewers to the World Series.
- Chris Carpenter? Feels like he's done, but you never know.
Axisa: Sizemore is the perfect example of how far teams are willing to reach to find good players. He hasn't been above-average or healthy since 2009 (hasn't even played in MLB since 2011), yet there always seems to be teams scouting him and showing interest. Rich Harden is the same way. Hasn't been effective or healthy in forever, but he keeps getting chances. I think teams can find themselves relying on these types of players a little too much, particularly pitchers.
For a while I thought Curtis Granderson would qualify as a reclamation project, but it seems like he's going to get paid as if he wasn't hurt in 2013. His injuries were flukes (both suffered on hit by pitches) and teams are so starved for power that the rough season almost doesn't matter.
Dayn Perry: I always find these to be interesting moves, even if they may not have the greatest success rate. Johan Santana's another guy to add to the list. I don't have a great deal of confidence in pitchers being able to come back from major shoulder problems in their mid-30s, but, as with Halladay, the body of work is hard to ignore.
My anecdotal perspective is that teams will have better luck when taking a flyer on an injury-prone guy who's still in close proximity to his prime seasons (Sizemore or Johnson, for instance) rather than a guy in his mid-to-late 30s who was generally healthy but coming back from a serious late-career injury. In the latter instance, you've got age-related decline to consider, too. With that said, I'd love to see, say, Santana ditch his high-stress slider and give it a whirl as a fastball-changeup closer.
Axisa: Relievers always seem to be a popular target for these types of moves. Is a team going to give Jose Valverde another chance? You know someone will roll the dice on Joba Chamberlain and Frank Francisco. Ditto Joel Hanrahan coming off Tommy John surgery.
I think reclamation projects work best for rebuilding teams. They can fill out a roster spot and maybe luck into some trade value -- Marlon Byrd with the Mets in 2013 was basically the best case scenario for this stuff -- which they could then turn into a prospect. Contenders might want to stick with sure(r) things.
No, you're not imagining things. This MLB offseason has been very slow compared to the last...

Francesa will retire from radio next month, so he'll have plenty of free time next summer

Get your sports fans something that they'll wear all year
Get 15 percent off any order of more than $75 at CBS Sports Shop

The Twins need help in the rotation, and they may look to the trade market to find arms

Here are the bullet-points of what went down Tuesday regarding MLB and the Braves' punishm...