Free-agent roundtable: Where do Angels turn after two failures?
After two high-dollar, low-results offseasons that ended up with no playoff appearances, where do the Angels turn now? We discuss.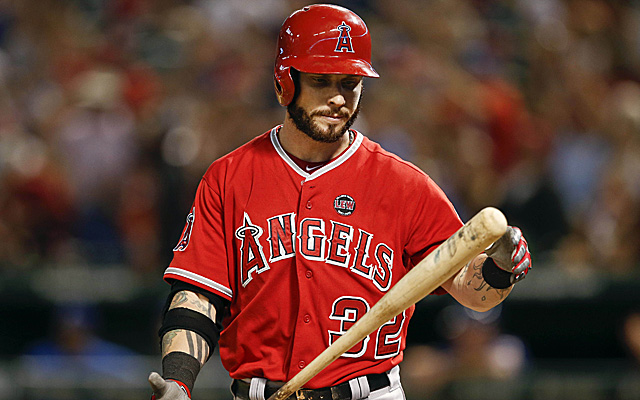 Free-agent roundtables: Yanks/Cano | Cruz, Peralta/Biogenesis | Reclamation projects | Ellsbury-Epstein reunion?
For Monday's roundtable, let's check out one of the most polarizing teams in major-league baseball due to their huge signings and failures in the past two years.
Matt Snyder: In the offseason following the 2011 season, the Angels signed Albert Pujols to a 10-year, $240 million deal and C.J. Wilson to a five-year, $77.5 million deal. They then added Zack Greinke at the trade deadline for a package including now-All-Star shortstop Jean Segura. And they missed the playoffs.
Last offseason, they didn't outbid the Dodgers for Greinke's services but instead signed Josh Hamilton to a five-year, $125 million deal.
They again missed the playoffs, this time finishing below .500.
This isn't even to mention that Jered Weaver's five-year, $85 million is on the books through 2016 while Howie Kendrick is making almost $10 million a year through 2015 and Erick Aybar is due $8.75 million every season through 2016.
The Pujols, Weaver, Hamilton and Wilson deals are all -- in some cases heavily -- backloaded.
Without even factoring in arbitration or pre-arbitration salaries, the Angels are on the hook for over $131 million next season, over $111 million in 2015 and over $106 million in 2016.
Also keep in mind, young superstar Mike Trout hits arbitration after next season, so he'll surely be due a significant raise.
Basically, this salary situation is a complete and utter mess.
So where to go from here?
Dayn Perry: My sense of things is that the Angels are "pot-committed" at this point. They're not going to be able to unload any of those contracts unless they assume a good portion of the remaining salaries, and that's to say nothing of all the no-trade clauses. Even if they clear those hurdles, they're not going to get much in the way of young talent in return. The best path is to continue attempting to contend. The Angels were not good in 2013, but they're just one season removed from a respectable 89-win campaign. As well, their 2013 run differential suggests they should have been a .500 team, which is something considering how many things went wrong. For all the (somewhat deserved) bad press they get, the baseline isn't all that dismal.
It helps that their starting point is Mike Trout -- the most valuable commodity in all of baseball. Albert Pujols finally had his plantar fascitiis treated (and in plenty of time to recover by spring training), Josh Hamilton was actually pretty good after a miserable April ... I could go on. The rotation, however, needs serious work, even with a healthy Jered Weaver. I'm not sure the Angels have the minor-league/pre-arb talent to deal for David Price, but they should certainly try. They should also be in on the bidding for Masahiro Tanaka and perhaps Matt Garza. Hiroki Kuroda, if he's willing to play another season in the US, would be an ideal quick fix in the middle of the rotation. Perform triage on the rotation, basically.
For me the bottom line is that the Angels have a foundation in place and are never going to look like the model organization when it comes to payroll efficiency. I get back to the phrase "pot-committed:" The Angels might as well keep going for it, as a deep rebuild just doesn't seem tenable at this point.
Mike Axisa: As silly as it might sound, I think it's perfectly reasonable to expect Pujols and Hamilton to be better in 2014 than they were in '13. The former will finally be healthy and the latter quietly had a big second half. Are they going to be the players they were two or three years ago? No, but they should be above average if healthy. As long as the Angels have Trout, they should go all-out to contend. You don't want to waste any of these years while he's on this historic run.
The Angels need to get their pitching sorted out. That's the big thing. Too many Joe Blantons and Jerome Williamses for a real contender. Weaver and C.J. Wilson are a fine one-two punch and I'm a Garrett Richards fan, but they need to add some good arms for those other two rotation spots. Not reclamation projects like Tommy Hanson either. Reliable starters like Matt Garza and Hiroki Kuroda would be ideal, but maybe not possible. Bartolo Colon and Paul Maholm could be cheaper alternatives. Ricky Nolasco is somewhere in the middle.
Snyder: The thing is, with those aforementioned deals being backloaded, they could probably handle high average annual value deals with shorter years to the likes of Kuroda and Colon. A Weaver-Wilson-Kuroda-Colon-Richards rotation would actually be very good.
Of course, then they don't have much money left, I would guess, to shore up the back end of the bullpen. The bullpen as a whole was awful, ranking 26th in the MLB in ERA. Then again, signing big-name relievers in free agency often blows up in the face of the signing team. The Angels would be smarter to spend on starters and add better relievers on the cheap, definitely shopping among the guys who aren't considered "proven closers," as most of those are overpriced. Luis Ayala? Jose Veras? Will Jesse Crain cost too much?
They need to do something, because only dealing with the rotation means the bullpen will again be a weakness.
The Twins have already fortified the bullpen with Addison Reed, and now they want to address...

The Orioles likely want pitching, and the Indians have plenty of it

Halladay died in a November plane crash off the coast of Florida
The power-hitting outfielder is headed to Toronto

Martinez could add some power to a Boston lineup void of it

It's almost that time of the year again, time for the Tebow madness to return