Free-agent stunner: Low-payroll Astros could make play for Choo
Nobody fits better in terms of hitting style for Houston the Shin-Soo Choo. Plus, they've said they expect the payroll to rise significantly.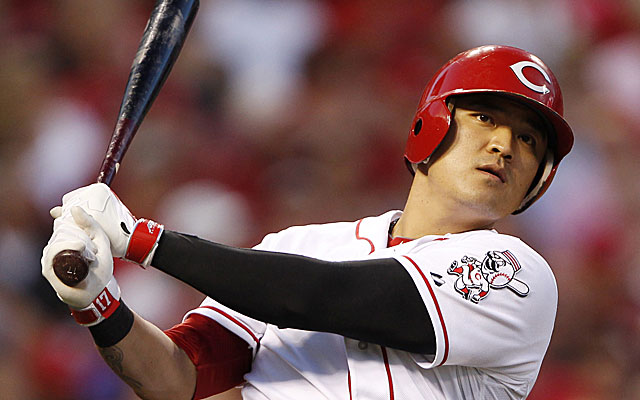 The Houston Astros, whose lowest-in-baseball payroll of $25 million or thereabouts was a mere fraction of most teams, may consider making a run at star outfielder Shin-Soo Choo, who is believed to be seeking fivetimes that figure on a multiyear deal on the free-agent market, according to sources.
In the most obvious way, a play by the lowly Astros for Choo would be shocking. Their highest-paid player last year, Bud Norris at $3 million, was traded in midyear, and their total payroll was 70 percent lower than the average payroll to start the year. Some figured the payroll as low as $13 million by year's end, depending on how it's calculated.
But in one way it makes sense.
Astros GM Jeff Luhnow has emphasized on-base percentage like almost no other baseball executive, and Choo had a .423 on-base percentage in 2013, second only to Reds teammate Joey Votto in the National League. Choo hit .285 with 21 home runs, 107 runs and 20 stolen bases, but his most marketable skills is his ability to get on base.
The Astros, saddled by a disastrous TV deal at the moment, have said publicly that they aren't opposed to a major rise in payroll, with owner Jim Crane saying recently, "I would say the payroll could go to $50-$60 [million] very quickly, and if this [TV situation] gets resolved, it could go higher."
A Choo signing alone would guarantee one of the higher increases in baseball history considering their meager payroll and his asking price. He could easily command a yearly salary six times higher than anyone who played for the Astros this year.
Houston's payroll, between $22 million and $30 million depending on how it's figured, is especially low for a big-market team, and it can certainly afford much higher player salaries -- though its situation is complicated a bit by the disastrous local TV deal inherited from past owner Drayton McLane.
The Rangers and Cubs have been mentioned as possible Choo suitors, and the Reds have said they want him back.  The Mariners need a top-hitting outfielder but have been linked more closely to a fairly local hero, Jacoby Ellsbury, the Red Sox star and son of the Northwest.
The Mets have an interest in Choo, but it remains to be seen whether they would sign a top-tier free agent expected to receive a $100 million deal. The Yankees are said to like Choo, but general manager Brian Cashman said in a phone interview that the outfield is down their list of priorities, as things stand now, anyway.
A Houston signing of Choo would be somewhat reminiscent of the Nationals' surprise deal for Jayson Werth three years ago, back when Washington was a cellar dweller. The Nationals received a lot of criticism for the move at the time due to the stunning $126 million, seven-year price tag for a player who had made just one All-Star team, but Werth brough credibility and leadership at a time the team needed it.
Choo established himself this past season as one of the league's top leadoff hitters, as the Reds' gambit paid off big. He could be seen as a comparable player to Werth, though he apparently will seek to top Werth's $126 million, as he has shown he can lead off ahead of the contract (Werth did so later) and agent Scott Boras will try to make the case he should benefit from baseball's expanding revenues three years later.
Some executives won't even want to hear about the Werth deal, as that is still viewed as an overpay despite Werth generally performing well in Washington. But while Werth has more power and perhaps a little more speed, Choo is as good defensively as a corner outfielder (he played center field for the Reds out of need) and is slightly younger than Werth was as a free agent.
Many folks originally scoffed at the idea of a nine-figure deal for Choo -- he'd be the first player never to make an All-Star team to sign such a deal -- but Hunter Pence's $90-million, five-year deal back with his old Giants club before even entering the market seems to suggest Choo has a very good chance to top $100 million. He is viewed as the player likely to receive the third highest total contract on the free agent market, beyond Robinson Cano and Ellsbury.
The Nationals, as it turned out, were a young team on the rise when they signed Werth. The Astros, due to the similar circumstance of owning the No. 1 overall pick multiple years (Washington took Stephen Strasburg and Bryce Harper, the Astros Carlos Correa and Mark Appel, with one more No. 1 pick coming next year), look a bit like the same blueprint.
The Astros could use a lot of help, starting in the pen and rotation. But in terms of offense, an outfielder certainly wouldn't hurt.
Luhnow declined to discuss Choo as he technically remains a Red until the free-agent period begins in the days after the World Series, Speaking generally, however, Luhnow said "the organizational philosophy is pointing in the direction of getting guys (who show patience) at the plate." Houston's minor-league teams all ranked in the top two or three in on-base percentage in their respective leagues.
At the major-league level, the Astros weren't nearly as patient. "Obviously, we have a lot of free swingers," Luhnow noted. "We're going to looking for any bats that are complementary."
Could that mean Choo?
From a philosophical standpoint, he would seem to be a perfect fit. The big question is whether he could also fit from a financial standpoint.
Gallardo spent the first eight years of his career in Milwaukee

MLB revenues are at a record high right now, but teams aren't spending it on players

Chicago added Tyler Chatwood earlier this offseason but might not be done adding to the ro...
The Dodgers and Braves pulled off a whopper on Saturday

Sabathia will reportedly spend a 10th season in the Bronx

Fowler suffered a knee injury at Chicago's Guaranteed Rate Field