Free agent to be Justin Masterson continues to struggle
Indians starting pitcher Justin Masterson appeared headed for a big payday this offseason. He still might be, but his performance so far has been poor.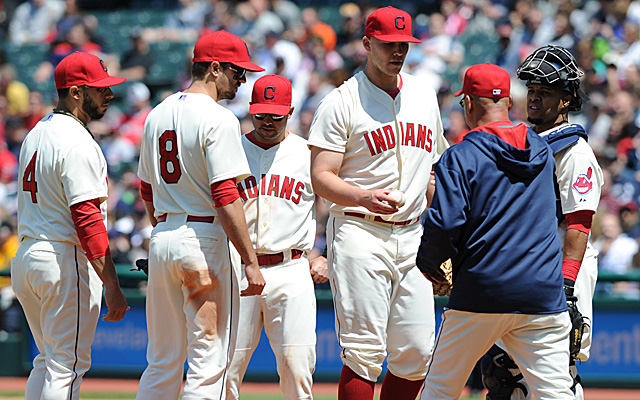 More MLB: Power Rankings | Expert Picks | Latest news & notes | Fantasy news
Coming off a 2013 season in which he went 14-10 with a 3.45 ERA as the ace of a playoff team, Indians starter Justin Masterson looked primed for a big payday once he hit -- if he hit -- free agency after the 2014 season.
Through 10 starts this season, though, Masterson isn't doing anything to help his stock. After a shellacking at the hands of the A's powerful offense Sunday, Masterson now has a 5.06 ERA.
Sunday was particularly ugly. Masterson gave up seven hits -- including four doubles and a triple -- and issued five walks en route to seven earned runs in 4 1/3 innings. Normally when the A's beat up a pitcher, we shouldn't get too worried about it, but Masterson is struggling on the whole this season and the extra-base hits plus walks combo is a bad look.
Sunday's start was, again, Masterson's 10th of the season and it was already the fifth time he's allowed at least five earned runs. That only happened seven times last season in 32 starts. Perhaps the best illustration of Masterson's struggles to date is the opposing hitters' collective slash line against him.
2013: .222/.312/.312
2014: .259/.346/.399
The league average hitting line entering Sunday was .252/.321/.394. So Masterson is allowing the opposition to hit above average against him. That's everyone, not just the middle of the opposing batting orders. Considering he's probably heading to free agency, that's quite a dip from where he was heading into this season.
Remember, back in the spring, Masterson made a "reasonable" request for an extension from the Indians, but Tribe apparently brass couldn't afford it. After Homer Bailey landed a six-year, $106 million deal from the Reds, it seemed to scream that someone like Masterson would be a coveted commodity on the free agent market.
He still might be, but he was already clearly behind Max Scherzer, Jon Lester and James Shields (and probably Ervin Santana) in the pecking order of free agent starters and he's not doing himself any favors in performance -- especially after seeing what the qualifying offer did to the value of Ubaldo Jimenez and Ervin Santana last offseason.
The question now is whether or not Masterson can get things turned around. There are some good signs and some bad.
On the good side, Masterson has been saddled with pretty bad fortune in terms of how his defense has helped him. His FIP (read here for explanation) is 3.85 while his xFIP (read here) is 3.76. That shows that if he continues to pitch as he has been, he should see a bit of a correction moving forward.
On the flip-side, though, Masterson's strikeout rate has dipped a bit from where it was last year (8.13 K/9 this year after 9.09 last year) and he's walking guys at the highest rate of his career (4.3 BB/9). Control issues and not missing as many bats is a good way to see the opposing offensive numbers spike.
Perhaps part of the problem on missing bats has been a drop in velocity. His fourseam fastball last year averaged 91.6 miles per hour. He's down to 89 this season. That's a pretty significant drop for just one season.
What also bears mention is that this is the fifth full season with Masterson in the rotation and he's only been good in two of those seasons (2011, 2013). Otherwise he's been inconsistent at times and actually pretty sub-par at times.
Factor everything together and where it once looked like Masterson might be a nice consolation prize to missing out on Scherzer, Lester and Shields, through almost a third of the season it now appears he's more suited to be included behind Santana and similar to the likes of Jorge De La Rosa and Francisco Liriano.
The good news for Masterson is that he still has a shot to turn it around. Jimenez, his teammate last season, was excellent down the stretch in 2013 after a terrible start and landed a four-year, $50 million deal. So there's time. He probably doesn't want to waste any more of that time, though. It's been a real bad start to the contract year for the righty.
In the last several years, lots of droughts have ended in MLB

The most likely scenarios are Dodgers winning in five or six games

Despite a seven-game ALCS, the Houston rotation lines up nicely for the World Series
Sabathia and the Yankees are a perfect fit for each other

Bregman threw out Greg Bird at the plate to preserve the Astros' lead

The 2017 World Series begins Oct. 24