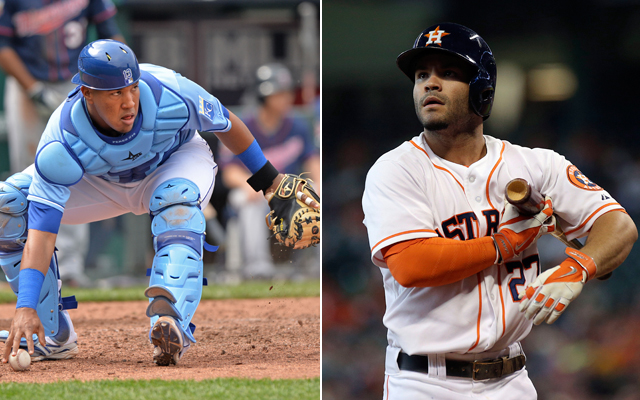 More MLB: Power Rankings | Expert Picks | Latest news & notes | Fantasy news
MINNEAPOLIS -- Royals catcher Salvador Perez was born May 10, 1990, in Valencia, Carabobo, Venezuela. Astros second baseman Jose Altuve was born May 6, 1990, in Maracay, Aragua, Venezuela. And the two played baseball together in their native country "pretty much since birth," said Perez said Monday at All-Star Game media day.
Now, they are teammates on the American League All-Star team.
Not that either is surprised by the success of his childhood pal.
"I always knew he was gonna be here," Altuve said of Perez. "When he was 16, he already looked like a major leaguer. Actually, when he was 13 he already looked like a big-leaguer. We had lots of fun together those days. We just worked hard and played hard and it was great. I love being here with him."
Perez returned the compliment.
"He always believed in himself and I always knew he'd make it all the way to the majors," he said of Altuve. "He works hard, he plays hard."
This is the second All-Star Game for each player, but it's the first time they'll be teammates, since Altuve was on the NL team in 2012 and Perez was on the AL team last season.
It's a pretty good bet this won't be the last time they're All-Star teammates, though. Perez is locked up through the 2016 season with Kansas City, but the club has three team-friendly options after that, so the chances are good he'll remain there through 2019. He's already one of the best receivers in the game, is excellent at throwing out would-be basestealers and has enough power to put together a few 20-homer seasons.
Altuve, meanwhile, is one of baseball's most exciting players. He leads the AL in stolen bases and the majors in hits. He trails Adrian Beltre by two points (.337 to .335) in the race for the AL batting title, though Perez is behind his friend in this race.
"He's gonna win it," Perez said. "I know it."
One thing I know is that Perez and Altuve will again be teammates on the AL All-Star team. Multiple times -- just as they always used to dream in Venezuela.