From July sellers to September (semi-) contenders, with no regrets
The Phillies and Brewers sold off in July, when it seemed they were done. It turned out they weren't done, not then, anyway. Is there a lesson here? Perhaps, but it may not be what it seems. Rather than having regrets about giving up too early, the Brewers and Phillies may think that their moves helped lead to their recoveries.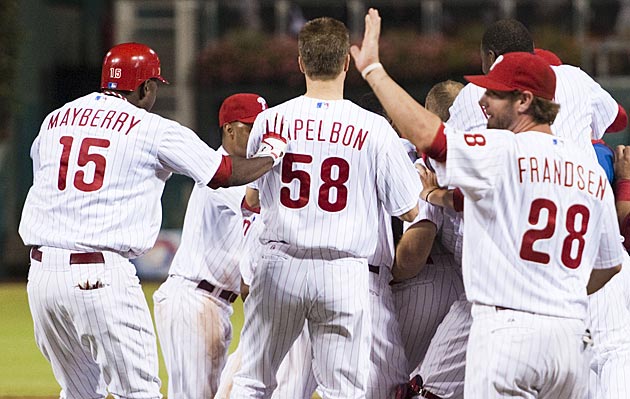 The Phillies refuse to look back and wonder what might have been had they stood pat in July. (US Presswire)
NEW YORK -- It's July 2013, and your team looks dead.
Double-digits out in the division race. Double-digits out in the wild-card race.

Double-digit games under .500, too.

Just like the Phillies were in 2012. Just like the Brewers were.

It's July 2013, and everything tells you that you're a trade-deadline seller.


More on MLB
Analysis

Related links
But you can't get the Phillies and Brewers out of your mind. They were dead. They sold.

And then they found themselves back in the race.

Is there a lesson here? And if so, what is it?

"I wouldn't change what we did, I know that," Phillies general manager Ruben Amaro said Monday.

A survey of general managers and club executives suggests that most of Amaro's colleagues agree with him. They still would have sold, and in fact they think the Phillies and Brewers might have begun playing better because they sold.
"It depends on what you think is the cause and effect," one National League GM said. "Some will say it is the shakeup and the energy of the young players who got opportunities."

To be sure, the three prominent players the Phillies traded (Shane Victorino, Hunter Pence and Joe Blanton) don't have great numbers with their new teams. The young players who have played in their places have outperformed them.

At the same time, the Phillies' biggest recent weakness -- and perhaps the reason that their last-gasp wild-card run will fall short -- is a lack of right-handed hitting. It's hard to forget the fact that they traded away a right-handed hitter and a switch-hitter.

And while the Brewers' young pitchers have performed well since Zack Greinke was traded, wouldn't their rotation look better now with Greinke in it?

The problem with that thinking, as people with both the Brewers and Phillies pointed out Monday, is that their teams might still not be good enough. They would have been holding on for a long-shot chance at a one-game play-in, while costing themselves a chance at prospects who could help them win in the near future.

Realistically, for the Brewers or Phillies to build a team with a decent chance of winning a title, simply not selling in July wouldn't have been enough. To be a true championship contender, either of these teams would have needed to add bullpen help.

"It would have cost us [Tyler] Thornburg or [Wily] Peralta to get better," one Brewers person said, naming two of the team's top young pitchers.

And they still would have had to count on the rest of the contenders for the second wild card falling apart.

Over the past 16 years, the teams that would have been the second wild card averaged 89 wins. As it turns out, because the Cardinals, Dodgers and Pirates have slumped, it looks like it could take as few as 85 wins to get into the NL playoffs this year.

Most likely, it will take more next year. Most likely, a team that looks as dead next July as the Brewers and Phillies looked this July really won't have a chance.

For now, at 2 1/2 games out with 16 games to play, the Brewers do have a shot.

At 3 1/2 games out with 14 to play, after Monday's 3-1 victory against the Mets, the Phillies have a shot, too. It's a long shot, thanks to their awful three-losses-in-four-games weekend in Houston, but it's not a no-shot.
They're still not looking back and second-guessing the trades.

"I think sometimes change changes things," Manuel said. "It gives you a different chemistry, sends a different message."

The message here: Don't be afraid to sell, and don't use the 2012 Brewers and Phillies as an excuse not to.
Neither Josh Donaldson nor Brian Dozier have talked about a new contract extension

Francisco leads the Dominican Winter League with seven home runs

Thome deserves enshrinement and here's why the case against him does not hold up
The Twins have already fortified the bullpen with Addison Reed, and now they want to address...

The Orioles likely want pitching, and the Indians have plenty of it

Halladay died in a November plane crash off the coast of Florida