Pablo Sandoval will miss the rest of the season after going under the knife to repair a torn labrum in his left shoulder. The Red Sox will miss him...not at all.
That's not at all how this was supposed to go. When the Sox signed Sandoval to a five-year, $95 million deal (and Hanley Ramirez to a simultaneous four-year, $88 million pact), they envisioned getting big production from both players, augmenting a core of rising young talent with two capable veterans.
At that time, there were lots of reasons to think both deals might work out terribly. Eighteen months later, we can officially declare both contracts as disasters. Sandoval hit a lowly .245/.292/.366 last year and even played terrible defense, a part of his game he could usually rely on even when his sometimes erratic bat failed him. But while Sandoval's name is in the news due to his season-ending surgery (and his considerable girth), don't overlook Ramirez's own lousy play. Sure, Hanley's improved from last year, when his own punchless bat combined with horrific left-field defense made him the third-worst player in the majors by Wins Above Replacement (Sandoval was second-worst). However, Ramirez's .284/.306/.412 line at hitter-friendly Fenway Park, combined with passable defense at first base, still makes him the living embodiment of a replacement-level player.
In short, no matter how much or how little Sandoval and Ramirez play between now and the end of their deals, these will likely go down as two of the worst contracts signed by any team in recent memory.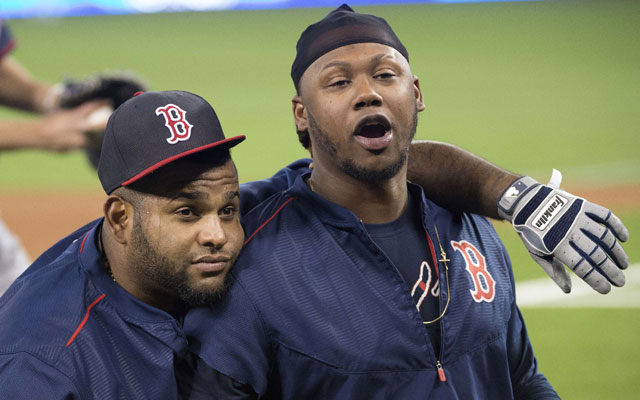 This got us thinking: What are the worst contracts in baseball history anyway? They would have to all come after the advent of free agency, since baseball's reserve clause all but ensured that players couldn't get anything close to what they deserved, let alone have the opportunity to get overpaid. And realistically, you won't find many overly objectionable contracts until at least the late-80s or early-90s, since a bout of collusion between owners tamped down salaries before that. So with apologies to Wayne Garland, here are six of the worst contracts from a team perspective of the past 25 years. Feel free to pick your alternate favorites in the comment section below):
B.J. Ryan, five years, $47 million from Blue Jays (2005)
Top relief pitchers are far less valuable than top starters, often coming from the ranks of failed starters in the first place. Even 11 years after this deal, you could count the number of relief pitchers you'd want to give this many years and this many dollars to on one hand. Back in 2005, though, this deal was sheer lunacy from the moment the Jays overzealously threw it at Ryan; the lefty being about to turn 30 and an established closer for just one season made this contract even nuttier. In the end, Toronto got just 155 1/3 innings out of Ryan, a ton of injuries, a breakdown in his skills that saw him lose his command by year three, and exactly zero major league innings in the final year of the pact.
Chan Ho Park, five years, $65 million from Rangers (2001)
Some context is in order for all the megadeals signed in 2000 and 2001: The stock market had gone bananas in the late-90s, soaring to unimaginable heights. It had actually peaked in March 2000, but plenty of people hadn't realized it, continuing to throw money around like it grew on trees for the next couple years. Some of these people were baseball owners. And while salaries' natural tendency is to rise (and thus shatter new records), the 2000 and 2001 offseasons stand out for ushering in so damn many of these off-the-charts deals.
Real estate mogul Tom Hicks was one of the spendiest owners of that era, giving Alex Rodriguez his infamous quarter-billion-dollar megadeal (which would have looked pretty decent had A-Rod stayed with Texas and put up the numbers that he did in subsequent seasons), as well as throwing way, way too much money at Park. Adjust for Arlington's hitter-friendly environment all you want -- there's still no way to avoid wincing at 68 starts and a 5.79 ERA for $65 million.
Carl Crawford, seven years, $142 million from Red Sox (2010)
Few parks in baseball would've been better suited for Crawford's game than Tropicana Field, the home park he occupied while becoming an all-around star for the Rays. And few parks would have been more poorly suited for his game than Fenway Park, where the Green Monster's shallow dimensions encouraged defensive stiffs like Jim Rice and Manny Ramirez to patrol left field. Not only did Crawford's defensive utility dry up, though; age and injuries eroded his speed, and a lack of over-the-fence power reduced Crawford to a rich man's version of Michael Bourn (maybe just a slightly well-off version, for that matter), both in Boston and then in L.A. That's a pretty horrible deal for $142 million.
Ryan Howard, five years, $125 million from Phillies (2010)
Howard was undeniably a good player in his prime. But he also possessed the exact skillset that made him inherently overrated, and likely to age poorly. Copious home runs and RBI look great on baseball cards and on fantasy rosters, but one-dimensional players who lack speed, defense, and other skills can see their worth dry up in a hurry the minute their power starts to slip.
The bigger problem, though, was that the Phillies banked on this short-shelf life skill set two years before they actually had to. Howard signed his massive extension in April 2010, then tore his Achilles tendon in October 2011. So even before his new deal kicked in, he was a 32-year-old, declining player who was also severely damaged goods. Howard hasn't just been disappointing in the four-plus seasons since; he's been a sub-replacement level player in every season but one.
Kei Igawa, five years, $46 million from Yankees (2006)
The actual contract for the Japanese lefty cost just $20 million, but that didn't include the $26 million posting fee the Yankees dished out to earn the right to negotiate with him. In exchange for that deal, Igawa made just 16 appearances, posting a 6.66 ERA over 71 2/3 innings. The Yankees can overcome colossal wastes of money better than most other clubs. Still, on an absolute production-per-dollar basis, it doesn't get much worse than this.
Mike Hampton, eight years, $121 million from Rockies (2000)
Hampton had seduced future suitors with his 22-4 record in 1999, at a time when many teams still considered nearly useless stats like won-lost record in making their personnel decisions. A year later, in his walk year before free agency, he struck out just over six batters per nine innings and walked a bit more than four per nine innings, the kind of numbers we now know tend to foretell imminent failure. The Rockies offered him what was at the time the biggest contract in major league history anyway, and Hampton happily accepted. He posted just one more full season with an ERA under 4.00 for the rest of his career.
The kicker to the story was Hampton's explanation for taking the Rockies' money, thus putting his so-so skills to the test at pitcher-crushing Coors Field (and failing miserably). He did it, he said, because of the quality of Colorado's schools.