Futures Game provides snapshots of some of MLB's top prospects
Let's have a quick run-down of what stood out about the 2014 Futures' Game.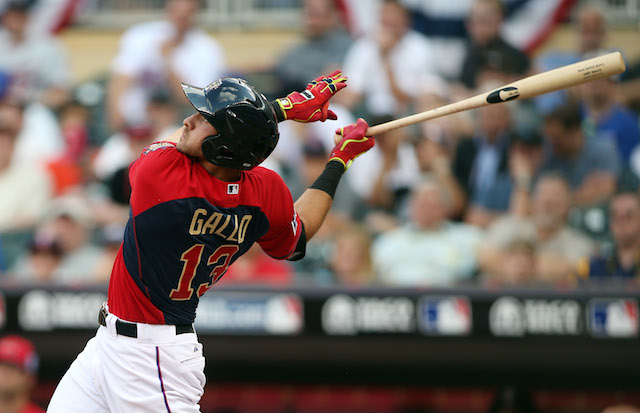 More MLB: Power Rankings | Expert Picks | Latest news & notes | Fantasy news
MINNEAPOLIS -- The 2014 Futures Game is now etched in the record books (USA 3, World 2), and now it's time for some glancing observations on what we witnessed. Keep in mind that these are, of course, based off a single game and, thus, drawn from an infinitesimally small sample. All the relevant caveats apply. 
Onward and in no particular order ... 
- Domingo German (RHP, Marlins) may have been the pitching standout of the day. He pitched a perfect frame and along the way struck out the likes of Kris Bryant (3B, Cubs) and Joey Gallo (3B, Rangers). He got Bryant, possibly the best prospect in the entire event, to whiff on a 95-mph fastball, and Gallo swung through a hard, sharp curve. He's listed at just 6-2, 175 pounds, but the ball jumps out of his hand. 
- Julio Urias (LHP, Dodgers) is not to be missed. Twice on Sunday, he clocked a fastball that was 5.59 times his age. That is, Urias threw a perfect frame in the Futures Game at the age of 17 (!), and twice he registered 95 mph on the gun. Once more, for proper emphasis: He's a 17-year-old lefty who throws 95. Highest velo-to-age ratio since Bob Feller? Maybe! He also notched a pair of called strikes and one swinging strike on his 80-plus mph slider. 
- Javier Baez (SS, Cubs) will steal some highlights with his 399-foot, opposite-field homer off a Lucas Giolito (RHP, Nationals) curve. Baez indeed has power to all fields, and Sunday's blast called to mind his mighty spring training homer to center. Given how hard Baez swings, his plate coverage and lack of holes on the outer third are impressive. He perhaps needs to be more responsive to the count in his approach, but don't throw him a strike. 
Here's a look ... 
- Joey Gallo (1B, Rangers) grabbed us by the lapels in batting practice, and he followed that up by thundering a 419-foot homer to right. Again, he looks like a classic pull-power left-handed masher in the box. Relevant ... 
Who's gonna pay for this windshield, @JoeyGallo24? Huh, huh?! #FuturesGame pic.twitter.com/NtckfW4sFz

— Dave Brown (@AnswerDave) July 13, 2014
Joey Gallo, friend to body shops, was also named Futures Game MVP for 2014. 
- Christian Binford (RHP, Royals) showed some excellent movement on his pitches -- surprisingly good late movement. It's easy to see why he's shown a knack for getting ground-balls and inducing weak contact. 
- Robert Stephenson (RHP, Reds). When it comes to late movement, all Futures Game aspirants need to get in line behind Stephenson. The 21-year-old on Sunday showed impressive late life on every pitch he threw, including a 95-mph fastball to Baez that behaved like a cutter. Know that I don't use the exalted descriptor "video-game stuff" when I say that Robert Stephenson has video-game stuff.
- Luis Severino (RHP, Yankees). The breaking ball with which he froze Gallo in the fourth was one of the best pitches thrown all day. Considering said breaking ball is supposed to be Severino's third pitch, that's noteworthy. He also showed a very-small-sample ability to tease out infield pop-ups. 
- Edwin Escobar (LHP, Giants). On the downside of things, Escobar failed to impress. He entered the 2014 season rated as a top-100 prospect by both MLB.com and Baseball America, but he entered Sunday with a 5.06 ERA on the season (albeit while pitching his home games in hitter-friendly Fresno). That said, his command was spotty throughout his one-inning outing (3 H, 1 R). Given that lack of command, his low arm slot and his left-handedness, it won't surprise if he shows platoon weaknesses against advanced hitters and winds up in the bullpen. 
- Peter O'Brien (1B, Yankees) went 0-for-2 with two strikeouts on the day. However, in my opinion he had the most impressive BP on the U.S. team of anyone not named Joey Gallo. O'Brien's a low-OBP slugger who's about to turn 24, but right-handed power can get and keep you a big-league job for a long time. 
Bruce Maxwell of the A's has been kneeling during the national anthem

Iowa and Missouri are two programs mixing technology and analytics

Sunday's MLB roundup features the D-Backs clinching a postseason spot and the Mariners going...
The 2017 season has been, by far, the worst season of Cabrera's career

The Mariners were eliminated from postseason contention with Sunday's loss

Maxwell became the first MLB player to kneel during the national anthem Saturday