Game score says Matt Cain's performance one of all-time best
According to Bill James' Game score statistic, Matt Cain's Wednesday night perfect game tied for the second-best nine-inning performance in baseball history. His 101 score is second only to Kerry Wood's 105 in 1998. Nolan Ryan and Sandy Koufax have also thrown games with a score of 101.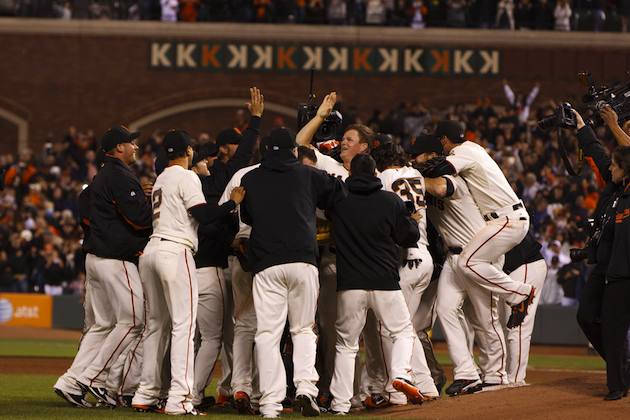 It doesn't get much better than a perfect game, does it? Well, when you're talking about degrees of greatness, it just may.
Game score is a stat created by Bill James to determine just how good of an outing a pitcher has had. The maximum score in a nine-inning game is 114 -- the all-time best for a nine-inning game is 105, set by Kerry Wood in his 20-strikeout, one-hitter over the
Astros
in 1998.
Matt Cain
's perfect game on Tuesday scored a 101, the second-best nine-inning mark ever, tied with Sandy Koufax's perfect game in 1965 and Nolan Ryan's 16-strikeout no-hitter in 1991.
The formula for game score is pretty simple: Start with 50 points, add one point for every out recorded, add two for each inning completed after the fourth, add one point for each strikeout. Subtract two points for each hit, four points for each earned run, two points for each unearned run and one point for each walk.
Because the formula is based on just counting statistics, it favors pitchers who throw more innings in a game. The highest-ever score of 153 was turned in by Joe Oeschger of the
Boston
Braves
, when he pitched all 26 innings of a 1-1 tie against the Brooklyn
Dodgers
. His opponent, Leon Cadore, has the second-best mark, 140, after pitching all 26 innings as well.
For more baseball news, rumors and analysis, follow @EyeOnBaseball on Twitter, subscribe to the RSS feed and "like" us on Facebook.
Another team rumored to be interested in Stanton has confirmed their interest

Chris Woodward has spent the last two seasons with the Dodgers

We heard about it being awful for years, but was it?
Then again, three trades in four days might be behind Jerry Dipoto's usual pace

Ohtani is arguably the best hitter and pitcher in Japan

The O's need rotation help, and Cobb is available for hire