Gap remains in Ervin Santana talks, and so does price tag and resolve
Ervin Santana is working out in Scottsdale, Ariz., and drawing interest from at least five teams.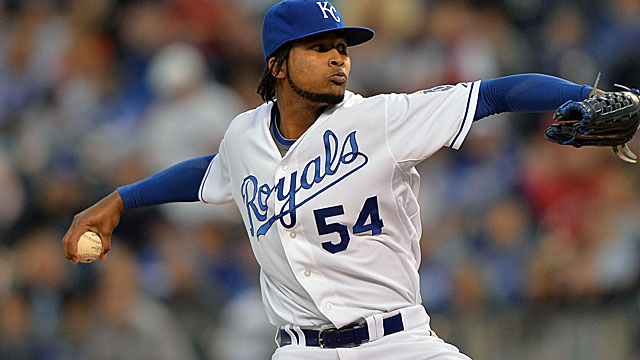 Free agent pitcher Ervin Santana's agents remain in contact with the newly aggressive Orioles and at least four more teams as Santana continues to work out in Scottsdale, Ariz. -- not far from 15 different spring camps -- and also to maintain his resolve, say people close to him.
Santana, a durable, dependable starter for nearly a decade, is believed to be seeking a deal similar to what the other three top pitchers received on the market (the other three got $50 million or $49 million for four years), and while Baltimore's chance to sign him may have been enhanced slightly with their recent signing of pitcher Ubaldo Jimenez and slugger Nelson Cruz, meaning only a third-round pick is attached to Santana for them now, there is said to remain a gap in their discussions with the right-hander.
The Orioles' surprising continuing interest in Santana, even after the signing of Jimenez, was first reported by CBSSports.com. The Orioles so recently signed John Santana, who received a minor-league deal that could pay him as much as $8.05 million, and he hopes to be in the rotation in June or later, though he may be used in relief, depending on his progress returning after a second shoulder surgery.
The Mariners, Rockies, Rangers and Jays are among other teams to remain in contact with Santana, who's been described by personal friends as "cool, calm and collected" by nature.
"He's concentrating on his workout," Santana's agent Bean Stringfellow said. "Obviously, he'd rather be in camp, as he's always in camp at this time. But he understands the process, and the business aspect of it. He's doing well."
The attachment of the draft choice has hindered at least a quintet of free agents in a system that probably needs an adjustment. While the elite free agents like Robinson Cano, Jacoby Ellsbury and Shin-Soo Choo were basically unaffected by the attachment of the draft choice, the group just below that has been badly hurt.
Jimenez wound up getting the $50 million, four-year deal from the Orioles, but Cruz had to settle for $8 million for one year, also from Baltimore. Shortstop Stephen Drew and first baseman/DH Kendrys Morales, like Santana, remain free agents.
There's a possibility one or more of the remaining free agents could wait until after the June draft to sign, eliminating the draft-choice issue.
Free-agent pitcher Matt Garza also got $50 million for four years, from the Brewers, and Ricky Nolasco got $49 million from four from the Twins, although those two players didn't have a draft choice attached to them by the mere quirk of having been traded midway through last year.
Santana, 31, was 9-10 with a 3.24 ERA last year, and should presumably still be in decent negotiating shape based on a career of reliability and performance. Spring-training injuries for key pitchers could also change the equation, as spots could open up.
"Ervin's very talented," Stringfellow said. "A lot of teams need quality pitching. Ervin's a front-line pitcher."
The Diamondbacks outfielder was not impaired, he was just going way too fast

MLB can unilaterally implement rule changes, which will also include limits on mound visit...

If the MLBPA wants to fix MLB's economic system, it should push for more money for young p...
Fans aren't happy Gerrit Cole and Andrew McCutchen have been traded away

Acuna is arguably the best prospect in baseball

Kent had a good career, particularly with the bat