Garcia exits early, but maybe the Cardinals won't
After just two innings Monday, the Cardinals had lost starting pitcher Jaime Garcia to a shoulder injury that could knock him out of the playoffs. A Game 2 loss to the Nationals could have had the Cardinals staring at an early exit, too. But they beat the Nationals 12-4, and now they're alive.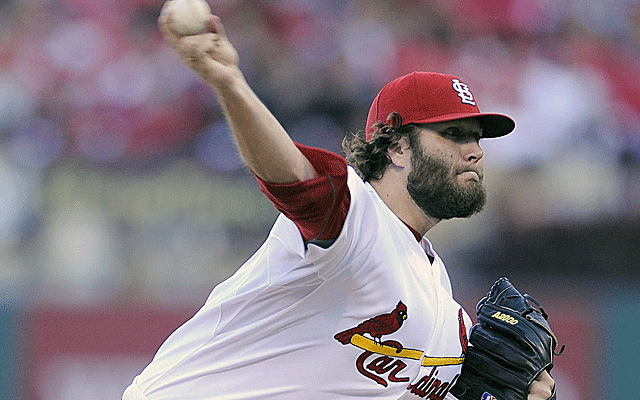 The Cards' Lance Lynn, an 18-game winner as a starter, comes out of the bullpen and earns the win in Game 2.
(US Presswire)
ST. LOUIS -- The bullpen phone rang in the second inning.

And not just in any second inning.

This was the second inning of a playoff game the Cardinals all believed was "must-win." This was the game that might well determine whether their season will go on, or whether it will end later this week.

The bullpen phone was ringing, and this wasn't just a friendly call. Two innings into what was easily the most important game the Cardinals have played since last October, starter Jaime Garcia was exiting.

Garcia felt pain in his left shoulder and was heading off for an MRI (likely to be removed from the postseason roster, and possibly done for the playoffs), but the Cardinals relievers didn't know that. They just knew that it was the second inning of a crucial game, and the rest of the game was already theirs.

"For us, it wasn't really a big deal," closer Jason Motte said. "That's kind of the way we work."

Of course it is. Have we forgotten last October already? Have we forgotten watching Cardinal relievers pitch more innings than Cardinals starters?

Have we forgotten that when things seem at their worst for this team, those things really aren't that big of a deal?

Well, if we have, the Cardinals haven't.

They may not win this Division Series with the Nationals, but they did win Monday's Game 2, 12-4. They're not in the best position in the world, with the rest of the games to be played in Washington, but this team has seen worse.

They remember last October. They remember Game 2 against the Phillies, trailing one game to none in the series and trailing 4-0 in the second inning with Cliff Lee on the mound.

"I feel what happened to us last year would help anyone," Skip Schumaker said.

About the same time that bullpen phone was ringing, Schumaker was being told to get ready to pinch hit. He didn't have time for his normal routine ("I usually drink a Red Bull," he said), but he did have time to consider what the Cardinals were facing with Garcia exiting the game so early.

"It's not easy to look at," Schumaker said. "However, we had an 18-game winner warming up, an All-Star."

That would be Lance Lynn, the 18-game winner who was asked to go to the bullpen for the postseason because with Garcia and Chris Carpenter both back from injuries, there just wasn't any room in the rotation.

"I wasn't surprised," Lynn said. "And there was no asking about it."

OK, so Lynn wasn't asked to go to the bullpen. He was told he was going to the bullpen, just for days like this.

"That's what I'm down there for, to throw multiple innings," he said.

He did just that, and while he gave up a couple of home runs and couple of loud outs, by the time he left the Cardinals held a 7-3 lead.

The highlights of this game will be the two long home runs by Carlos Beltran (880 feet of homers, by the Cardinals' estimates) and a big day from Jon Jay (a single, a triple and a spectacular catch in center field), the way the bullpen handled things was what reminded you more of October 2011.

A year ago, Tony La Russa made a record 28 pitching changes in the NLCS against the Brewers. Two games into this Division Series, Mike Matheny has already changed pitchers 10 times.

When Matheny sent Schumaker up to pinch-hit for Garcia in the second inning Monday, it seemed at first that the rookie manager was displaying an impressive sense of postseason urgency. Garcia had given up just one run on two hits, but he had three walks and clearly wasn't at his best.

Garcia said later that he had felt some stiffness and soreness in recent days, but didn't say anything because he thought it would get better. But in two innings, he realized it wasn't getting better, and when the coaching staff asked, he said he should come out of the game.

"My arm wasn't right," Garcia said. "It wasn't getting right."

The Cardinals, according to a report from Joe Strauss of the St. Louis Post-Dispatch, will take Garcia off their playoff roster. That would allow them to replace him for this series (when he wouldn't pitch again, anyway), but it would officially take him out of consideration to pitch in the NLCS (when he might not be healthy enough to pitch, in any case).

The Cardinals would need to get past the Nationals for it to matter. That's no guarantee, of course. While Monday's win gives them hope, it only evened the series, with all the remaining games to be played at Nationals Park.

"It's not like we're scared on the road by any means," Schumaker said.

It's not like they're scared of anything, a point we all should understand by now.

When bullpen phones ring in the second inning, when starting pitchers are sent for MRIs before the game they started even ends, it's not really good news.

For the Cardinals, it's not really a big deal.
Fans aren't happy Gerrit Cole and Andrew McCutchen have been traded away

Acuna is arguably the best prospect in baseball

Kent had a good career, particularly with the bat
This would undoubtedly be the worst trade in Miami Marlins history

The Pirates recently shipped Gerrit Cole and Andrew McCutchen to Houston and San Francisco,...

Surely, Martinez and his agent are holding out for more