Garland exercises opt-out; Mariners likely going young in rotation
Jon Garland opted out of his contract with the Mariners on Friday, meaning they will likely go with young pitchers at the back of the rotation.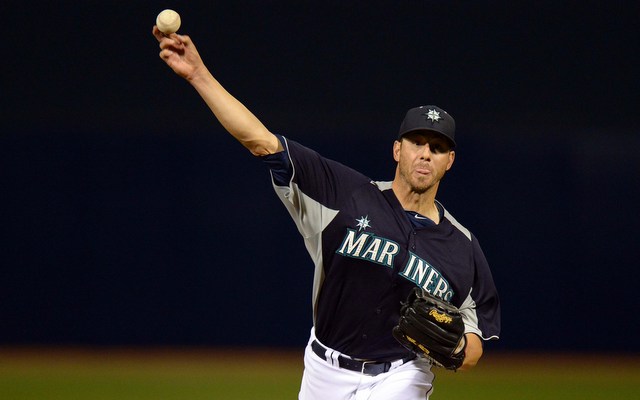 Veteran right-hander Jon Garland exercised the opt-out clause in his contract on Friday after the Mariners informed him they did not have a rotation spot to spare, reports Shannon Drayer of 710 ESPN Seattle. He'll look for a big-league job elsewhere rather than go to Triple-A.
"Our decision at this time, we couldn't commit to giving him a roster spot and a spot in the rotation," said GM Jack Zduriencik to Ryan Divish of the Tacoma News Tribune.
Garland, 33, allowed eight runs in 15 innings this spring when you include his unofficial start against the Netherlands in a World Baseball Classic exhibition game. He's returning from major shoulder surgery that kept him out for most of 2011 and all of 2012. Garland went 14-12 with a 3.47 ERA for the Padres in 2010, his last healthy season.
The decision to let Garland walk likely means the Mariners will go young at the back of their rotation, with righties Blake Beavan, Erasmo Ramirez and Brandon Maurer competing for two spots. Veteran Jeremy Bonderman could be in that mix as well, though he does not have an opt-out clause in his contract and could be assigned to Triple-A.
Beaven, 24, has gone 16-17 with a 4.37 ERA in 41 starts over the last two seasons. The 22-year-old Ramirez went 1-3 with a 3.36 ERA in eight starts and eight relief appearances last year, including a strong September (2.86 ERA). Maurer, 22, has never pitched above Double-A but has been very impressive in spring training, forcing his way into the picture.
Seattle's rotation is fronted by (of course) Felix Hernandez, with righty Hisashi Iwakuma and lefty Joe Saunders following suit. Having three promising young pitchers -- not to mention the top prospect trio of Taijuan Walker, Danny Hultzen and James Paxton in the minors -- for two spots is a good problem to have.
There's no reason to run over the cases for and against Bonds, so let's have fun instead

The coveted right-hander would certainly be a fit in Milwaukee

We rate the best mustaches from random baseball cards because, why not?
Colon wants to break a Dennis Martinez record

The Twins have been rumored to be interested in Darvish all winter

Rolen is one of the best third basemen of all time, but you wouldn't know it based on this...