Garrett Richards' injury doesn't bury the Angels
The seemingly serious knee injury suffered by Garrett Richards on Wednesday night is bad news for the Angels, but it's not a season-killer.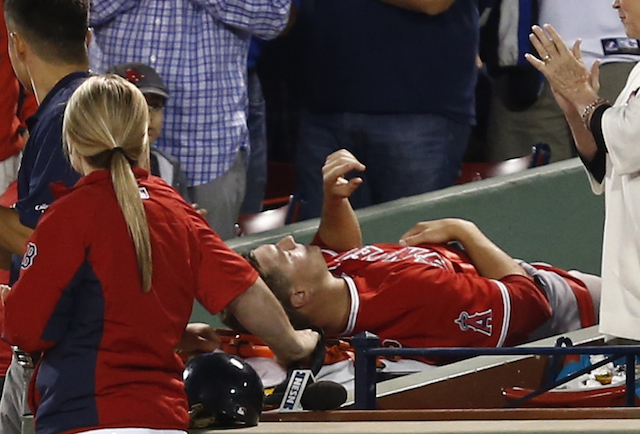 On Wednesday night, Angels ace Garrett Richards suffered a torn patellar tendon in his left knee and unfortunately will miss the next six to nine months after undergoing surgery.
Richards this year has made the leap to certifiable ace, and he's done so in part because of added velocity. Counting Wednesday night's fated start, Richards has now pitched to a 2.61 ERA in 168 2/3 innings of work, and over that span he's allowed just five home runs. That's to say, he's been excellent. Now let's pivot toward evaluating what the Angels will be without him. 
The good news for the Angels is that they have a cushion in the standings. The loss of Richards may -- may -- doom them in the AL West (the second-place Athletics are presently just 1 1/2 games off the pace), but they're 6 1/2 games ahead of the Tigers, the current owners of the second wild card berth. That's a big margin, especially this time of year.
So what does the loss of Richards mean? Per FanGraphs's rest-of-season projections, Richards coming into Wednesday night was set to be worth about 0.5 WAR, or a half of a win relative to a replacement-level starting pitcher (precisely the sort the Angels may wind up turning to), over the rest of the 2014 regular season. That sounds like an underestimation at first blush, but bear in mind two things: one, Richards takes the mound just once every five days, and, two, we're within hailing distance of September. 
Structurally, baseball just doesn't allow a team to be wrecked by a single injury -- their contributions are necessarily limited. They start once every five days. They pitch out of the bullpen just a handful of innings per week. They come to the plate just once every nine batters. Even the most rangy of up-the-middle defenders get to just a few balls per game. And so on. 
In the case of Richards, the Angels are likely looking at missing out on seven of his regular season starts. That's out of 37 total games left to play. This season, the Angels have played .566 ball when Richards hasn't started. Basically, they're a little better than the Royals when someone besides Richards is their starting pitcher. Scale that out over the remainder of the season, and the Angels get to between 95 and 96 wins and almost certainly make the playoffs. 
Sure, Jered Weaver, Matt Shoemaker, Hector Santiago and C.J. Wilson and pick 'em (recall that Tyler Skaggs is done for the season) hardly amount to an optimal rotation, but given the strength of the Angels' offense and the depth of their revamped bullpen, it's enough. Again, the Halos have margin for decline, and it's late-ish August. As well, we're still in the waiver period, so there's still time for GM Jerry Dipoto to scare up a stop-gap.
As for the playoffs, which, as mentioned, even the Richards-less Angels are highly likely to be a part of, you'd obviously love to have your frontline ace headed in. However, there's something to be said for letting the bats, increased reliance on the relief corps and the prevailing randomness of October "small sample size" baseball do their respective things and seeing what comes out of the sausage-grinder. After all, it wasn't so long ago that the 2011 Cardinals claimed both belt and title without a single inning from Adam Wainwright.
So let's recognize that the Angels remain a good and almost certainly playoff-bound team even without their ace. 
The Red Sox and Cardinals are expected to make trade offers next

The free agent first baseman may be a fit in St. Louis

The front office changes in Atlanta continue
The Marlins are more likely than you think on our list

Judge finished a distant second in the balloting and he paid respect to the winner

Stanton just won the 2017 NL MVP award but could wind up being dealt this offseason