Garza informed he'll likely be dealt: Texas, Indians, Red Sox, Cards in mix
Matt Garza, the top trade target among starting pitchers, is the hot name again after contract talks failed to produce an extension.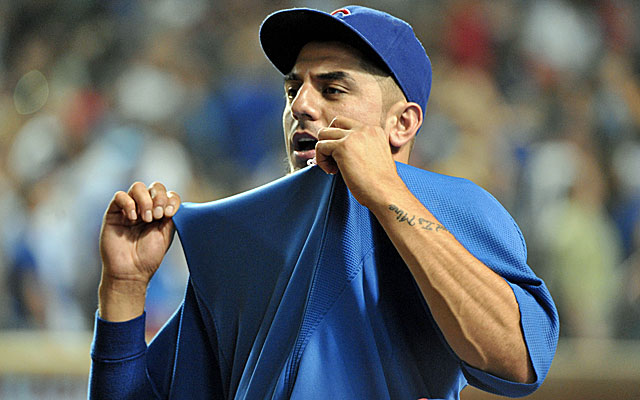 Cubs star right-hander Matt Garza, who separated himself as the top available starting pitcher with a string of impressive recent outings, has received notice that he will likely be traded after contract talks didn't produce an extension. Garza is drawing interest from the Rangers, Indians, Red Sox and Cardinals, among others.
Texas and Cleveland seem to be clear players while Boston's interest might depend somewhat on when star Clay Buchholz returns from injury, which is unclear. Others believe St. Louis is a stealth player in the derby for the red-hot right-hander.
Just about every contender has checked in on Garza at some point, as he is the lone No. 1 or 2 type pitcher on the block. He is particularly appealing since he is battled-tested in the AL East, from back in his Rays days.
The Cubs, clearly convinced he is past the elbow issue that sidelined him the last few months of last season and the beginning of this year, broached the possibility of an extension, as reported here first, but sources suggest there was a difference of opinion over the AAV (average annual value) on the deal, not surprising in that star players rarely sign within three months of free agency. Garza has raised his stock both in terms of his eventual salary and also the trade market, going 5-0 with a 1.24 ERA over his past six starts.
Texas is getting strong performances in its rotation lately from Martin Perez to go along with Derek Holland, and it is expected that Yu Darvish and Alexi Ogando will be back soon. But there's still uncertainty regarding the timing of the returns of Colby Lewis and Matt Harrison, leaving Texas dependent lately on several young starters. The Rangers have used 23 pitchers overall and have seven hurlers on the disabled list.
The Indians are satisfied with their depth but seek to add a top-of-the-rotation starter, a tall order in this market, especially since Milwaukee's Yovani Gallardo isn't pitching to his past performance. The Red Sox are said to be concentrating on the pen even after adding lefty Matt Thornton, but Buchholz's health could determine their eventual focus.
St. Louis wouldn't seem to have a major need in the rotation, but Garza would upgrade any team, even better ones. Toronto has been speculated as a possible suitor, but there is little to no evidence they are actively involved, at least not at the moment.
The Orioles, never really in the Garza derby, were obviously out once they settled for the Cubs' Scott Feldman. The Padres, Giants and Rockies looked like early possibilities, but San Francisco and Colorado might be evaluating whether to buy and San Diego looks like a probable seller.
The Braves could have some interet in a top-of-the-rotation starter, though Brandon Beachy is expected back soon and it might be a tight squeeze for them. The Diamondbacks are looking at starters, but reports have suggested they might prefer pitchers under team control through 2014, at least. The Dodgers appear to be focusing on bullpen help after adding Ricky Nolasco early, but they should probably never be counted out of anything considering their aggressive style.
Where might the Orioles third baseman land?

Kinsler will slot in at second base for the Angels

The Marlins got a better return for Ozuna than Stanton or Gordon
The two teams are going about things in very different ways

The Marlins are indeed in teardown mode under new ownership

The Marlins still have more attractive pieces