Garza market: Texas says no on Perez, D-Backs in the picture
The Cubs are understandably seeking big-time prospects in a trade for hot right-hander Matt Garza, but the Rangers won't part with left-hander Martin Perez.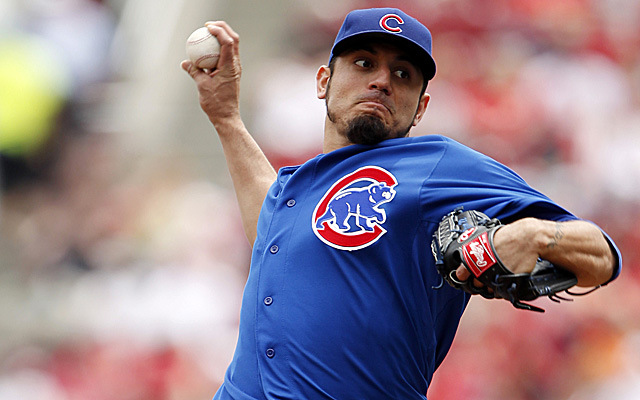 The Rangers, Indians and Diamondbacks are among several teams in on the sweepstakes for Cubs right-hander Matt Garza, the clear No. 1 pitcher on the trade market, while the Red Sox are a team that's said to be thinking about it.
The Rangers, a team deep in prospects, with a rotation in flux (Yu Darvish and Alexi Ogando are expected back soon, but Colby Lewis and Matt Harrison not until later), have been tied most to the Cubs, at least in reports. While the idea that they could include young left-hander Martin Perez in a Garza package has been advanced publicly, sources are adamant that Perez will not be in any deal, which is logical considering he's producing in the rotation already.
The Diamondbacks are an interesting new entry into the chase for Garza, as they have good young pitching to offer, and their GM, Kevin Towers, was Cubs president Theo Epstein's mentor in San Diego.
Arizona's pitching has been surprisingly inconsistent this year, and its reported plan to concentrate on pitchers who are non-rentals may have to be out the window in an extremely limited starting-pitching market. Towers, though, has strong ties to White Sox right-hander Jake Peavy, who's expected to hit the market as soon as his broken rib heals, and Peavy may be more attractive to Towers as a non-rental. (His contract runs through next year.)
The Cubs seek top-tier prospects, according to rival teams, and that shouldn't surprise anyone as Garza is 5-0 with a 1.24 ERA during his past six starts. However, with Cubs top honchos conceding that the team is probably a year away from contention, it may not be necessary to include major-league ready or close-to-major-league ready prospects, as long as the ones lower down are considered high-ceiling guys by Cubs people. The Cubs are well-stocked with big positional prospects, so presumably pitching would be slightly preferred, though potential is surely the key.
Garza, free-agent eligible after the year, is aware he's likely to be traded this month, as was reported here. The Cubs and Garza briefly weighed an extension for him, but talks didn't immediately produce a deal, practically sealing his fate as the top man likely to go on the trade block.
The Red Sox, with a deep stash of prospects -- particularly arms (some of whom who were acquired in Epstein's regime), would be a major threat if they join the fray in full force. Boston reports are painting the Red Sox as a long shot, as they don't like to surrender top prospects, of which they have many. (Beyond Xander Bogaerts and Jackie Bradley, they have pitchers Matt Barnes, Anthony Ranaudo, Allen Webster, Rubby De La Rosa, Henry Owens and Drake Britton.)
A Boston-connected person, asked if they are in the derby, said "not as of yet." The suggestion is that perhaps their commitment to the fray may depend on the health of Clay Buchholz, the star starter with a neck issue who had his throwing session pushed back until Thursday.
The Indians, seeking only a top-of-the-rotation prospect, are a player, as was reported here, and sources suggest the Cardinals have some interest, though it's not easy to imagine a big Cubs-Cardinals deal, as Danny Knobler wrote about Monday.
Teams said to be most prominent in talks are said to be seeking a No. 1 or 2 starter, which makes sense. The Dodgers have been tied to Garza but seem to be concentrating on the pen after firming up an excellent rotation by adding dependable Ricky Nolasco. Jim Bowden of Sirius mentioned the Pirates, Rockies and Nationals, but the Rockies have been reluctant to take on salary (Garza has close to $5 million to go this year) and any Nats pursuit may be dependent on the progress of Dan Haren and perhaps Ross Detwiler.
The Giants and Padres were said to be interested at one point, but their recent slides have, in all likelihood, taken them out of the buying mood. The Orioles didn't match up, and when they took Cubs starter Scott Feldman they were obviously out on Garza. The Blue Jays have been tied to Garza, too, but as of two days ago a source said there had been almost no talk about Garza on the part of the Jays. Things can change at this time of the year, of course.
The Nats will host the All-Star Game in 2018

The Orioles are looking to trade Machado heading into his walk year

The Cardinals have been linked for a while to the Baltimore star
Gallardo spent the first eight years of his career in Milwaukee

MLB revenues are at a record high right now, but teams aren't spending it on players

Chicago added Tyler Chatwood earlier this offseason but might not be done adding to the ro...