Gattis to change positions for now; McCann to change teams after year
The Braves think they can find enough time to keep Evan Gattis playing even after the return of star veteran catcher Brian McCann. But the plan is clear: Next year, Gattis will take over as the Braves' catcher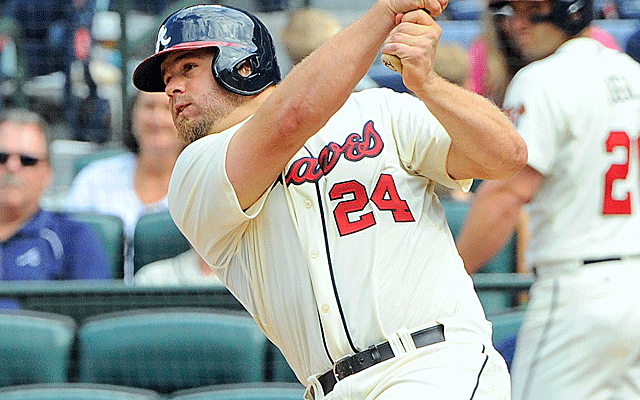 The Atlanta Braves have one of the most powerful catching tandems in years now that six-time All-Star Brian McCann is back to join hot rookie Evan Gattis, but they'll also have a bit of a challenge for now to fit all their good hitters into the lineup.
The Braves believe they can get Gattis enough at-bats to make it worthwhile by employing Gattis some in left field (where he is tonight), some at catcher and maybe some at first base for the next five months, before he presumably takes over as the starting catcher next year. The Braves won't say it aloud, but the handwriting is on the wall for a change in 2014, with McCann making $12 million this year and ready to become a free agent after the year.
McCann's presence is clearly a plus, as he has a career .826 OPS and adds to the team's powerful array of hitters. Furthermore, Gattis' versatility should help manager Fredi Gonzalez make it work, or so the Braves believe, if they can get him three to four starts a week between left field, first base and catcher. Gattis played mostly left field in winter ball, which enables Gonzalez to use him there and switch early MVP candidate Justin Upton to right field, at least while Jason Heyward is out..
Heyward is on the disabled list after appendix surgery, which loosens things up for Gattis at the moment. But even after Heyward returns, the Braves believe they can find room for Gattis to play one of three positions. Heyward was off to an excruciatingly slow start at .121.
The Braves also like the idea of having third catcher Gerald Laird, which enables them to use wither Gattis or McCann as a pinch hitter in certain situations.
McCann's return comes right on time, less than seven months after right shoulder surgery. He was hitting .423 with four home runs at Class-A Rome and Triple-A Gwinnett.
Having two big-hitting catchers will be a nice luxury for the Braves for five months. But Atlanta, which last winter picked up McCann's $12-million 2013 option, has kept its payroll in the mid-$90-millions for several years, so allowing McCann to leave via free agency appears to be a fait accompli now that Gattis is emerging as a hitting star at the minimum salary; Gattis has seven home runs and 18 RBI already. The Braves also have a top defensive catching prospect, Christian Bethancourt, in the minors.
McCann, only 29, should be a star of the free agent market this coming winter, what with his five silver slugger awards. The Braves should be OK, though, with Gattis seemingly ready to take over in 2014.
But for now, though, Gattis will be the man on the move.
The report also says that Jeter had outgoing president David Samson do the firing

This wasn't a traditional hidden ball trick, but the Blue Jays pulled it off

The Tigers essentially fired Brad Ausmus on Friday, but things are going to be ugly for a...
The club made the announcement on Friday

Plus the Tigers will make a change in the dugout and all of Friday's action

The Rockies are clinging to the second NL wild card spot at the moment