Generations collide: Andy Pettitte wins 250th, watches Yanks draft son
Andy Pettitte wins his 250th game and the Yankees select his son in the 37th round of the draft. Can a day get any more pinstriped than that for a Bronx legend? Oh, and Mariano Rivera gets the save. ...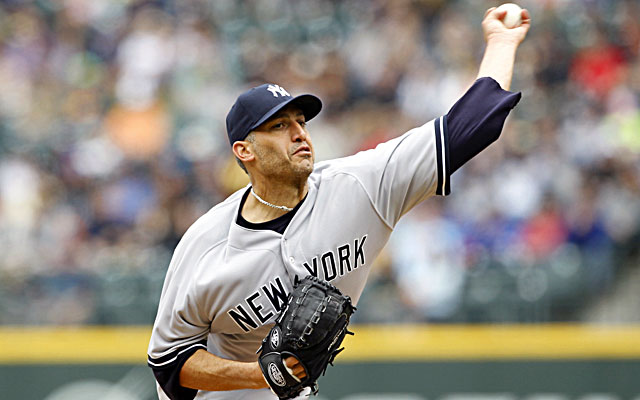 SEATTLE -- This was one of those moments Andy Pettitte can tell his kids about.
Except . . .  his son Josh, 18, already was one of the central characters in the latest sequence made expressly for one of those Yankeeographies on YES Network.
So just wait until the grandkids, whenever they arrive, hear about this.
On the same day Pettitte scooped up his 250th career victory . . . the Yankees scooped up Josh, a right-handed pitcher, in the 37th round of this year's major-league amateur draft.
Making things all the more touching, Josh is with his dad here in Seattle.
Andy was shaving, just out of the shower, when Josh got the call in the clubhouse during the eighth inning of the Yankees' 3-1 win against Seattle on Saturday.
As Josh, who is bound for Baylor University, quipped, "It's a good day for the Pettittes, I guess."
"It's great," Andy Pettitte said. "I'm proud for him. He had a great year. I know [the draft] has been weighing on him.
"I'm honored the Yankees took him. I'm excited about that. He's going to go to college, but it was great.
"I'm proud of him. Not just for baseball, but for the kid he's been."
On a pinstriped day when generations collided, it also could not have been more perfect that Mariano Rivera earned the save, the 630th of his career.
Rivera now has saves in 71 of Pettitte's 250 career wins, the legendary closer's highest total for any starting pitcher.
"You can't even put it into words," Yankees manager Joe Girardi said. "I'm sure Andy is happy to have Mo, and I'm sure Mo is happy to have Andy."
Understatement.
As if anybody needed another reminder that this is the last gasp of some grand old Yankees, time was, Josh Pettitte was a little kid running around old Yankee Stadium.
Now. . . . 
"You've gotta hang on six more years, bro!" Rivera, 43, called out to Pettitte, 40, in the clubhouse, already envisioning Andy and Josh as teammates one day.
"No chance," Andy called back, laughing.
If only the cameras were rolling.
"We'll see what happens in three years," Andy said. "His dad wants him to go to school."
It sounds as if that will not change, even given this chance to sign with the Yankees. As a late-round pick, the money Josh will be offered won't be enough to topple the plans the Pettittes already have made.
"We'll talk," Andy said.
But more than likely, he said, the money won't be enough for Josh to pass up a very nice opportunity at Baylor.
The win was Pettitte's 213th as a Yankee, which ranks as the third-highest in club history.
"He's been a great Yankee," Girardi said. "Talk about one of the all-time greats. That's what he is.
"It was a pleasure to play with Andy, and it's a pleasure to manage him."
A Yankees team doggedly pursuing another AL East title needs every win it can get, and Pettitte, in just his second start following a stint on the disabled list, was happy to deliver.
As for the personal milestone of No. 250 balanced against the Yanks drafting his son, Pettitte didn't hesitate to say which moment was more special.
"Definitely for him," he said. "But it's all tied in together. I can't separate it. It all happened together when the game was ending, and it was really cool."