George Springer's great home run surge propelling Astros
George Springer has seven homers in his last seven games and has been pounding the ball for most of May. The Astros have won six straight and have a winning record in May, too.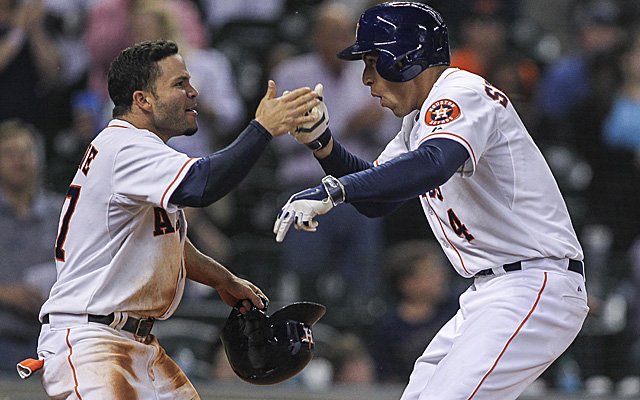 More MLB: Power Rankings | Expert Picks | Latest news & notes | Fantasy news
Astros phenom George Springer homered Thursday night. It was important. How? Let us count the ways:
1. It was his seventh homer in the past seven games: He's the first rookie to accomplish this feat since 1937, when Rudy York did so, per Elias Sports Bureau.
2. It was Springer's 10th homer in the month of May: Only Mark McGwire (15 homers in May 1987) and Wally Berger (11 in May 1930) hit more home runs as a rookie in the month of May. Walt Dropo (1950), Bob Speake (1955), Wally Joyner (1986) and Jose Canseco (1986) also had 10-homer months in May. The Astros still have two games left in May against the Orioles -- who are tied with the Yankees for the most home runs allowed in the American League -- before the calendar turns to June, too.
3. Since a slow start, Springer is now hitting .333/.438/.778 with four doubles, one triple, 10 homers, 24 RBI and 21 runs in his past 21 games: I've heard that's decent production for a rookie. OK, we actually don't need that "for a rookie" caveat, do we?
4. The Astros are 7-2 when Springer homers: In that 21-game spurt I mentioned above, the Astros are 13-8. They've also won six straight right now and have a winning record in May at 14-13. They haven't had a longer winning streak since 2010 and a winning month would be their first (in a full month) since they went 17-12 in August of 2010 [Note: The October regular-season games are counted as part of September in monthly baseball registers, so the Sept./Oct. record in 2010 is technically 15-15].
This is all coming from a franchise that has had the worst record in the majors three years straight, losing at least 106 games each time -- even getting worse each of the three years, winning a franchise-low 51 games last season.
Oh, and by the way, an aside: Anyone want to make an AL Rookie of the Year prediction? Springer, Jose Abreu and Masahiro Tanaka have all been outstanding and that's not even including some very talented youngsters like Xander Bogaerts and Yordano Ventura. What a class.
Still, let's keep the focus on Springer for now. He has two games left in May to do even more damage. I don't think he can hit five homers to tie McGwire -- then again, would it even be surprising at this point? -- but two more and only McGwire's historic rookie season was better, in terms of May home runs.
And, overall, with Springer joining players like Jose Altuve and Dallas Keuchel, the Astros are quite fun right now. Good for them and, probably more importantly, good for their loyal fans.
Maxwell joins a growing movement across sports

The Yankees punched their ticket to the playoffs with a win over the Blue Jays on Saturday

Sabathia's stance seems to be an increasingly popular one among athletes
Plus the A's and Brewers have hope, Giancarlo goes deep again, and much more

Matt Chapman and Matt Olson give the A's hope

Despite an awful month, the Dodgers are again NL West champions