Giancarlo Stanton's opt-out may not be bad news for Marlins
As Giancarlo Stanton and the Marlins work toward the largest contract in MLB history, what of the opt-out that's said to be part of the deal?
As reported by our own Jon Heyman, the Marlins on Wednesday will announce that they've signed slugger Giancarlo Stanton to a mammoth contract -- at $325 million over 13 years, the largest contract in MLB history. Heyman also reports that the deal will include an opt-out that will allow Stanton to become a free agent not long after his 30th birthday (he turned 25 earlier this month).
At first blush, this would seem to be a troublesome wrinkle from the Marlins' standpoint. They'll pay dearly to lock up Stanton until his late 30s, but then Stanton can simply tear up the contract if he decides he can do better on the market. However, if Stanton winds up opting out, it won't be bad news for the Marlins -- at all.
Let's say, given the implications above, Stanton's deal allows him to opt out after the 2019 season, at which point he'll have, as Heyman notes, just turned 30. If Stanton exercises that right, then that will mean he's maintained a high level of performance -- high enough, in fact, to persuade him and his representatives that he can make more on the market than the final eight years of his Marlins contract guarantee him. This will mean that Stanton will have provided tremendous value over the first five years of the deal, otherwise he'd never dare test the market.
Therein lies the value for the Marlins. These kinds of mega-contracts are almost always backloaded, so that the player is underpaid relative to the market at the front end and overpaid at the back end. It's to the team's advantage to free up cash in the short term, and players, given that multiyear contracts in MLB are guaranteed, don't worry so much about putting off higher paydays for a few years. No obligations to Stanton after Year 5 means that the Marlins will likely escape the post-prime portion of the contract, when the player tends not to live up to his yearly salary. That's a good thing for the team.
To be sure, the Marlins must take advantage of those five years by surrounding Stanton with contending-caliber talents. They'll also need to avoid the pitfall of re-signing the opted-out player, which is something that almost never works out for the team (see: A-Rod's and CC Sabathia's post-opt-out contracts with the Yankees for a couple of cautionary examples). All you're doing at that point is paying a premium for the player's deep decline phase. Stanton's a generational player, but you might not want to commit to him too far into his 30s. 
Really, an exercised opt-out likely means that the team has gotten exceptional value over those initial years of the contract. It's a problem when the player doesn't opt out (meaning he believes his remaining contract exceeds his market value) or if the team, out of a misplaced sense of something, re-signs the aging player at new, costlier terms. 
So if Stanton opts out after the 2019 season, then the Marlins should pat themselves on the back and or coin-purse for having extracted so much value from Stanton in his age-25 through age-30 seasons. And then they should bid him farewell.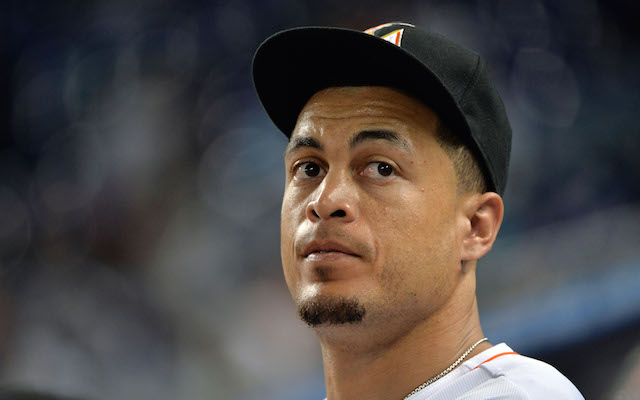 CBS Sports HQ Daily Newsletter
Get the best highlights and stories - yeah, just the good stuff handpicked by our team to start your day.
Please check the opt-in box to acknowledge that you would like to subscribe.
Thanks for signing up!
Keep an eye on your inbox for the latest sports news.
Sorry!
There was an error processing your subscription.
The Astros were favored at -600 at MGM Grand and still lost

The Orioles still have 34 games left to play, too

The 2018 No. 1 overall pick's terrific season included a no-hitter in his Double-A debut
Here's our regularly updated look at baseball's biggest injuries

Also, watch SportsLine on CBS Sports HQ live at 6 p.m. ET for all today's best bets

Here is everything you need to know about the day in baseball