Giants could win (again), but they need some Sabean tweaks (again)
It's no big deal (and nothing new) that the Giants aren't in first place in late June, but they may need help to get there again this year.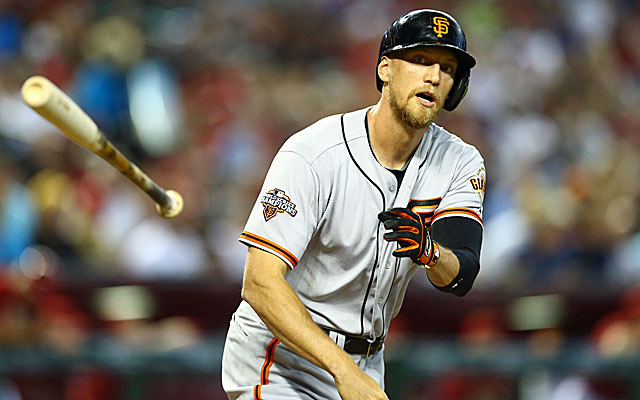 LOS ANGELES -- It's late June, and the Giants aren't in first place.
There's a temptation to ask what's wrong, and then you realize that the Giants weren't in first place at this point last year, and they weren't in first place at this point in 2010, either. The Giants haven't been in first place on the first day of summer in 10 years, which is a little bit surprising since they've been on top when winter began twice in the last three years.
You wouldn't want to guarantee that this season will finish the way those seasons did, but you know better than to say this team can't -- or won't -- win.
"We're not very good right now," manager Bruce Bochy said Tuesday, before a 6-5 loss to the Dodgers helped prove his point (and pushed the Giants to a game under .500, at 38-39. "But we are good."
They're good, but this time around even some people in the Giants organization are wondering if they can be good enough. Perhaps they wonder that every year, but they're pointing to the injuries now and asking whether they can make it work.
"We've been able to tweak it every year," one Giants person said. "You know Brian will try to tweak again."
Brian is general manager Brian Sabean, who played a big part in both Giants World Series titles with his midseason "tweaks." If the Giants' recent struggles prove anything, it's that they need Sabean again this year.
Sabean warned Tuesday that no deal is close, but he said that he and his staff have list of potential targets that run the gamut -- from starting pitchers to relief pitchers to position players. He said that adding money won't be a problem, and even suggested that the Giants would have an easier time taking on money than they would parting with their better prospects.
The Giants have been linked most closely with starting pitchers so far. They're known to have shown interest in Ricky Nolasco, and they've discussed Bud Norris and Matt Garza, among others.
"Trust me, it's not going to be now, and it's not going to be overnight," Sabean said, before the Giants played the Dodgers Tuesday night. "The best way to put it is the price of doing business now is prohibitive."
Giants players and coaches talk less about the players that Sabean could add, and more about the players who have and will soon come off the disabled list. They talk about Pablo Sandoval helping the lineup, Chad Gaudin and eventually Ryan Vogelsong helping the rotation and Santiago Casilla helping the bullpen.
"We've got to believe in what we have now," Hunter Pence said.
Pence, though, is an example of Sabean's ability to make things happen in July. He was the biggest acquisition last July 31.
Last year's team needed help, because while the Giants were never under .500 after May 16, they slumped to a 46-40 record at the All-Star break. The 2010 team was similar, never under .500 all year but still struggling along at 41-40 as late as July 4.
The midseason acquisitions were big each of those years (and Sabean also tried to save the 2011 season by trading for Carlos Beltran), but another key was that the Giants never fell too far behind in the National League West. They weren't in first place, but they were within striking distance.
Similarly, while the Giants are 38-39 record (the first time since 2008 they've been under .500 this late in a season), they're just 3 1/2 games out of first place.
"It's a winnable division," said reliever Javier Lopez, a key Sabean addition in 2010. "And not just for us."
The division is still considered so winnable that all five teams see themselves as buyers, as colleague Jon Heyman detailed on Tuesday. All five, in fact, have shown interest in adding starting pitching.
Sabean's history suggests that the Giants have a good chance at getting what they need. The Giants' history suggests that it doesn't really matter that they've had this rough patch in June.
"They know the journey, and that really does matter," third-base coach Tim Flannery said.
The journey for the Giants has never been smooth. These aren't the Yankees of the late 1990s, who went through three consecutive seasons where they never spent fewer than 146 days in first place.
The Giants of 2010-12 never spent more than 94 days in first place (they were in first for just 38 days in 2010). They've spent 30 days in first this season, but none this month.
"I do feel like we need a little bit of torture through the season, just to test our character," Lopez said.
The test is coming now, and the Giants feel it.
But with all the success they've had, they also feel they can pass it.
Gallardo spent the first eight years of his career in Milwaukee

MLB revenues are at a record high right now, but teams aren't spending it on players

Chicago added Tyler Chatwood earlier this offseason but might not be done adding to the ro...
The Dodgers and Braves pulled off a whopper on Saturday

Sabathia will reportedly spend a 10th season in the Bronx

Fowler suffered a knee injury at Chicago's Guaranteed Rate Field