Giants deserved their title, but the rest of us deserved a more thrilling postseason
The Giants were great. Maybe they were too great, because they did so well that they took a lot of the drama out of what at first looked like it would be baseball's best postseason ever.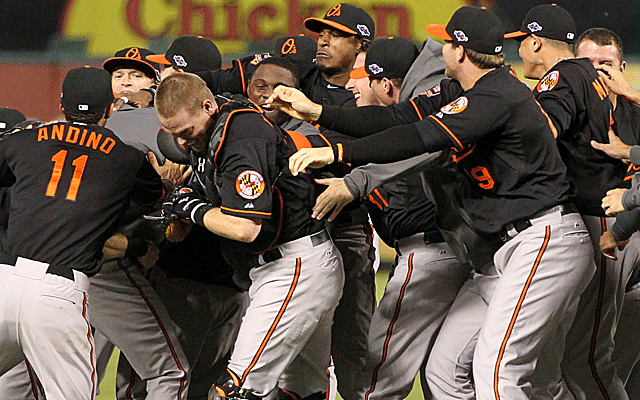 O's fans returned to Camden Yards for one of baseball's best stories this year.
(US Presswire)
DETROIT -- Eight days in, we were headed for baseball's best postseason ever.

Two weeks later, we're still waiting for another great game. And with the World Series over after a four-game Giants sweep, it's going to be a long wait.

The Giants and their fans will long remember October 2012, as they should. It's not their fault that the games after the great first round weren't truly memorable, unless we're blaming them for being too good.
More on MLB
Related links
More on World Series

As Justin Verlander said after Game 4, "They played doggone near flawless baseball."

The Giants fully deserve their second parade down Market St. in the last three years.

It's the rest of us who are left feeling we deserved better.

Maybe we're spoiled. Last year's postseason may have been the best ever. This year's first round was without doubt the best ever.

But about the time Derek Jeter fell down on the Yankee Stadium infield and couldn't get up, the postseason excitement seemed to leave us, too.

This isn't about the teams that were left. It's certainly not about the fans that were left, because the in-stadium atmosphere was good in Detroit and even better (best in baseball) in San Francisco.

It's just that the games themselves weren't much.

As Lance Berkman said after the NLCS, "To be honest, even though this series went seven, this was not a compelling series. Every game was pretty much decided by the third inning."

There were no lead changes at all in the ALCS, and only one (in the third inning of Game 3) in the NLCS. There were two lead changes in Game 4 of the World Series, but none in any of the first three games.

The Tigers weren't even able to follow through on what had been the theme of the postseason, the success of the desperate.

In all, there were 14 games won by a team that would have gone home had they lost. The Giants, of course, led the way with six of them. But seven of the 10 teams that made it to the postseason had at least one win in a win-or-else game (with the exceptions being the Rangers and Braves, who lost the wild-card games, and the Reds, who took a 2-0 lead over the Giants and then lost three straight, including their only win-or-else game).

Because of the first round, it wasn't a terrible postseason. Because of the last two rounds, it wasn't a great one.

And with that, here's CBSSports.com's fifth annual look back at the October's best and worst:

Best game: I'm not sure if it was really the best, but Cardinals-Nationals Game 5 was easily the most memorable. It was 6-0 Nationals after three innings, but then the Cardinals started coming back. It was 7-5 Nationals with two out in the ninth and two strikes on Yadier Molina, and also with two out and two strikes on David Freese. When it was over, with the Cardinals winning 9-7, my phone rang. My friend Bob Nightengale of USA Today had to talk to someone. "Unbelievable," was all he said. It was all anyone needed to say. Unbelievable.

Best moment: The rain was coming down. The fans weren't leaving. The game was a 9-0 blowout. The fans weren't complaining. The Giants have had almost every one of their celebrations the last three years on the road (as they did again in the World Series), so their loyal and fun-loving fans weren't going to let a little rain (or a lot of rain) ruin their party after Game 7 of the NLCS. Even before the champagne flowed, everyone got wet. And everyone loved it.

Best player: You could argue that Pablo Sandoval's three home runs in Game 1 served the same purpose for the Giants that Kirk Gibson's Game 1 home run served for the Dodgers in 1988. The Panda set the tone, and the Giants simply followed. Not only that, but Sandoval ended the postseason with six home runs and 13 RBI in 16 games. Miguel Cabrera won the Triple Crown and should win the MVP, but in the World Series, he finished second-best among Venezuelan third basemen.

Best crowd: There's no better place to watch a baseball game these days than San Francisco's AT&T Park. The place is packed, the fans are into every pitch, and the Giants use music and the video board perfectly. The worst thing about the Giants sweeping the World Series is that we didn't get to see Game 6 and Game 7 in San Francisco.

Best gesture (tie): A's fans saluted their team with a standing ovation after they lost Game 5 to the Tigers. Some Orioles fans went them one better, heading to Camden Yards to welcome the team home after the O's lost Game 5 to the Yankees in New York. The fans and excitement returning to Camden Yards made for one of baseball's best stories this year. The A's were just as good, and by October, their fans seemed to understand that.

Worst crowd: It wasn't just that the Yankees failed to sell out their final three home playoff games. It was the entire atmosphere for five straight nights at Yankee Stadium. My friend Joel Sherman of the New York Post said Yankee Stadium was the biggest disappointment of the playoffs, ahead of the underperforming Curtis Granderson, Nick Swisher and even Alex Rodriguez. As someone who has been going to Yankee playoff games since 1995 and couldn't believe what I saw that week, I have a hard time disagreeing.

Worst gesture: We got through a World Series without any umpiring controversies. But it's hard to forget that the postseason began with the infield fly mess in Atlanta. It's harder to forget that Braves fans responded by throwing everything they had onto the field.

Worst prediction: Will I ever learn? I promise right now that I'm going to pick the Giants to repeat, and I'm never, ever going to pick them to lose a postseason series again. And I'll expect (and accept) all the tweets and emails of derision from Giants fans when they do eventually lose.

Five who helped themselves: 1. Marco Scutaro. He was the Most Valuable Player of the NLCS. He had the game-winning hit in the World Series. The Giants say he was maybe the most important guy in their clubhouse, even though he only arrived at midseason. And now he'll be a 37-year-old free agent.

2. Anibal Sanchez. The Tigers got him at midseason, too, and now they want to keep him. But after finishing the season strong, Sanchez was brilliant in the postseason, with a 1.77 ERA and 0.98 WHIP in his three starts.

3. Kyle Lohse. He wasn't good in Game 7 against the Giants, but he sure was good in helping the Giants get as far as Game 7. Too good to stay in St. Louis, because as the Cardinals have admitted, he's going to get more on the free-agent market than they feel able to pay.

4. Delmon Young. The Tigers likely won't bring him back, but after another fine October, someone no doubt will. And he'll make a lot more money than he would have if his season had ended in September.

5. Bruce Bochy. He's not a free agent. He didn't need the help, and we shouldn't need a reminder that he's one of the game's best managers. But winning two World Series in three years is a huge accomplishment, especially with a team that was considered a big underdog both times.

Five who hurt themselves: 1. Alex Rodriguez. He's not a free agent. He didn't hurt his paycheck. But A-Rod's reputation is important to him, and A-Rod's reputation took a huge hit this month. First he was pinch-hit for. Then he was benched. Then CBSSports.com reported that Yankees manager Joe Girardi was so worried about A-Rod's feelings that he asked that the Yankee Stadium public address announcer not mention who it was that was getting pinch-hit for.

2. Josh Hamilton. He is a free agent. We don't really know whether he hurt his future paycheck. We do know that his one postseason game was awful, and seemed to make his departure from the Rangers a certainty. I know that this year I saw the best offensive game I've ever seen a player have, and also the worst. Hamilton had the best, in his four-homer game in Baltimore in May. Hamilton also had the worst, in four feeble wild-card game at-bats against the Orioles in October.

3. Jose Valverde. Valverde insisted on getting a third-year option when he first signed with the Tigers as a free agent. Bad move. Not only did he end up playing for $9 million this year when he could have made more on the open market, but now he's a free agent coming off a bad year and a worse October, instead of coming off a perfect year and a great October.

4. Nick Swisher. He didn't hit. He complained about the fans. His regular-season numbers will still get him paid. With a good postseason, he'd have set himself up to make so much more.

5. Yankee mystique. Not only did the Yankees lose in a sweep in the ALCS, but the Giants won the World Series again (with the help of old Yankees Brian Sabean and Dave Righetti). So add the Giants to the list of teams with more World Series titles than the Yankees in the last 12 years. The Giants have two, tied with the Red Sox and the Cardinals. The Yankees have one, tied with the Diamondbacks, Angels, Marlins, White Sox and Phillies.


The coveted right-hander would certainly be a fit in Milwaukee

We rate the best mustaches from random baseball cards because, why not?

Colon wants to break a Dennis Martinez record
The Twins have been rumored to be interested in Darvish all winter

Rolen is one of the best third basemen of all time, but you wouldn't know it based on this...

Neither Josh Donaldson nor Brian Dozier have talked about a new contract extension