Giants-Diamondbacks game shows flaws of new replay system
MLB's new replay system isn't perfect, and Tuesday night's win by the D-backs over the Giants showed why.
More MLB: Scoreboard | Standings | Probable Pitchers | Sortable Stats | Odds
Tuesday night's Giants-Diamondbacks game -- an eventual 5-4 win for Arizona -- had more than its share of close calls. In the course of those close calls, the problems with MLB's new replay system were laid bare. Specifically, the "manager's challenge" wrinkle, which sounded pretty in silly in conception, is turning out to be silly in execution. 
First, Giants manager Bruce Bochy quite understandably challenged this fourth-inning safe call on a pickoff attempt on A.J. Pollock ... 
Pollock certainly looked out to me, but I suppose if you squint and tilt your ahead like a perplexed hound, then you can see the "not enough conclusive evidence to overturn" rationale. Maybe. That's not the problem, though. Here's the problem ... 
Since it was before the seventh inning, Bochy lost his right to challenge any further calls (had his challenge been upheld, he would've received another; after the sixth inning, umpires initiate the review process). Sure enough, though, moments later -- two batters later, to be precise -- Pollock, after being advanced to third on a Gerardo Parra double, scurried home-ward on a passed ball and was called safe on yet another perilously close play. Manager Bochy, though, had no way to force a review of the play. Well, it so happens that Pollock was plainly out: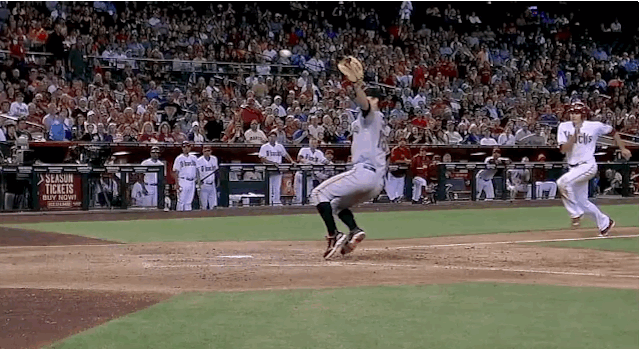 Yep, out. Bochy could do nothing about it, though, since he was out of challenges. The run stood, and the D-backs went on to win by, yes, a single run. 
The point of replay should be -- bold declaration forthcoming -- to get the calls on the field right. I get that the challenge system adds another tactical layer to the game, but at best that should be distantly secondary to making sure critical calls are made correctly. If we compromise that greater goal in the service of sprouting another twig on the manager's decision tree, then we're being too clever by (at least) half. If nothing else, every scoring play should be subject to review regardless of when it occurs and regardless of whether the manager in question has any lucky-best challenges left in his patent-leather, monogrammed shoulder holster of lucky-best challenges. 
If this happens enough times -- and over the course of a seven-month season, it will indeed happen enough times -- then maybe MLB will revisit the self-defeating decision to make manager challenges part of the system.
Let's just get the calls right, OK?  
Harrison has a thing for ending no-hit bids

Hill was close to perfect across regulation but it turned out to be all for nothing in the...

Plus Hank Aaron weighs in on Colin Kaepernick, Trevor Rosenthal hits the DL, and more
Davis should help fortify the Red Sox outfield

Whether or not Mike Matheny will adjust is to be seen

Hammerin' Hank wants to see Kaepernick get another shot in the NFL