Giants finally ready to embrace Tim Lincecum as reliever
Tim Lincecum has been moved to the bullpen by the Giants, and it's the correct move.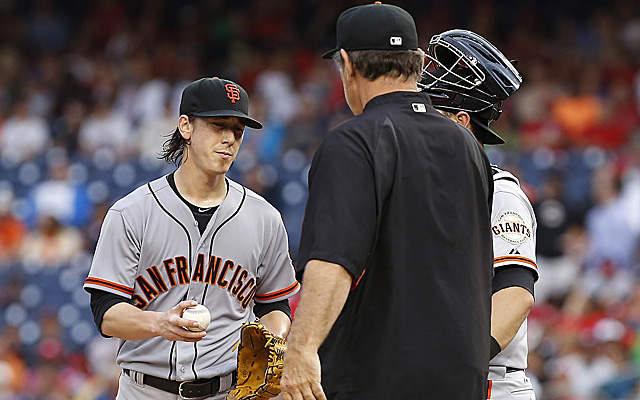 Giants starting pitcher Tim Lincecum is struggling in a big way and Monday, the club finally announced that he's been moved to the bullpen. Not only do I think this is the correct move, but I also think Lincecum would turn into one of the more valuable relievers in baseball.
We know Lincecum has talent. He's a two-time Cy Young winner. It's also been a long time since he was a consistent, reliable starting pitcher. From 2012-14, his combined ERA is 4.73. His strikeout rate is down more than two strikeouts per nine innings from his best years and command/loss of velocity have been major issues.
He had some good stretches earlier this season, but has been utterly pounded of late, sporting a 9.49 ERA in his last six starts. Let's not forget 2012, though, when Lincecum was one of the worst rotation members in baseball. He was moved to the bullpen for the playoffs and was dominant.
In five relief appearances that postseason, Lincecum worked 13 innings, allowing only one run on three hits while striking out 17 and walking two. That's a 0.69 ERA, 0.38 WHIP and 11.76 K/9. Small sample? Of course, but remember watching how dominant he was? He was nearly unhittable on every occasion. By the time he entered Game 3 of the World Series -- his final outing of the year -- I remember thinking he was automatic dominance for at least two innings. Not only that, but he could bridge the gap from the middle innings straight to the closer if need be. In Game 4 of the NLDS against Cincinnati, Lincecum went 4 1/3 innings. In Game 1 of the World Series, he struck out five of the seven batters he faced in 2 1/3 innings of stellar work. He never worked fewer than two innings.
Just imagine how valuable having a weapon like that is. The Giants can now feasibly start getting dominant, multi-inning relief outings from him two to three times a week. We can't be certain he'll be just as good as he was in 2012, but there are several reasons to believe he could be.
A pitcher with Lincecum's stuff can greatly succeed in a relief role. He doesn't need to use as wide an arsenal and can focus more on his splitter and less on his rather ineffective curveball. It couldn't hurt to mix the slider in from time to time, but in a limited role, he can work off mostly fastball (both four- and two-seamers, the latter of which is also known as a sinker) and splitter. Without having to worry about going six or seven innings, it's possible his velocity would tick up as well. It did so slightly in the 2012 playoffs and hasn't been back to that level since. No, he's not ever going to be averaging 94 miles per hour on his heater again, but it's possible to work back up into the 92 range.
Seeing pitchers like Glen Perkins, Casey Janssen and Zach Britton thrive in relief after relatively failing as starters is proof that in many cases, it's much easier to succeed in relief than in a rotation. Lincecum's already thrived as a starter, but he hasn't done so since 2011. Having a guy on a two-year, $35 million deal in middle relief might seem like a waste of resources, but that contract has already been signed. There's no going back, so they might as well try to get as much value from Lincecum as possible while he's around. The move to the bullpen is a good way to try and extract some.
With five weeks left and holding a tenuous grip on the second wild-card spot (one-game lead over Atlanta), the Giants don't have much time to mess around with more Lincecum stinkbombs while he's holding down a rotation spot. The time to make a move was the present, so kudos to them for doing so.
We saw a brief glimpse of what a valuable weapon Tim Lincecum could be out of the bullpen when the Giants won it all in 2012. The Giants are going back to that well, and I believe it'll pay dividends.
Hosmer recently signed an eight-year contract with San Diego, and his usual No. 35 was spoken...

As part of the five-player deal, Brandon Drury is headed to the Bronx

Stoneman Douglas caps will be worn during Friday's spring training games
Arrieta is the top starting pitcher left on the market

The Angels are lowering the fence from 18 feet to 8 feet, so we should see a jump in home...

Mathis is one of the best at something that cannot be measured but is valued