Giants find themselves in familiar territory
San Francisco needed to win three straight to advance to the National League Championship Series and now they find themselves in a similar predicament, needing to win three straight to advance to the World Series.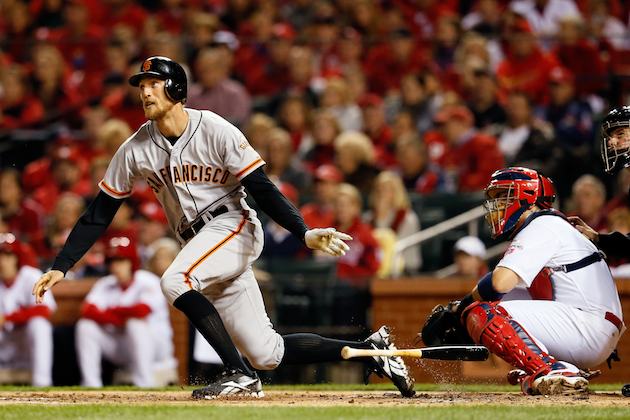 Hunter Pence's second-inning homer was his first career postseason extra-base hit. (Getty Images)
ST. LOUIS -- Hunter Pence has no plan for a speech for Game 5 of the National League Championship Series. Of course, he didn't have a speech planned last time, either.
"That's run its course," Pence said. "I think everyone -- there might be a speech, who knows what's going to happen? I didn't have the last speech prepared, it just happened. Who knows who is going to say something or what's going to happen? But things change whenever your backs are against the wall. We have a group of guys who are going to fight until the very end."
Pence's rallying the troops got plenty of attention as San Francisco won three straight in Cincinnati in the National League Division Series, overcoming three elimination games. The situation is the same Friday in St. Louis, the Giants need to win on the road to extend their season and win three games in a row to extend their season.
More playoff coverage
ALCS: Tigers vs. Yankees
NLCS: Cardinals vs. Giants
The Giants lost their first two games at home in the NLDS, going back to Cincinnati for three games in the best of five series. The Reds, with the second-best record in baseball, hadn't lost three games at home all season. But the Giants came in and did the seemingly impossible, rallying to beat the Reds to get here, to the NLCS. So while the Cardinals fans looked ahead to another World Series against the Tigers, you can forgive the Giants for not feeling like their season is over.
Not that the San Francisco clubhouse was popping champagne corks on Thursday, the team was low-key, but not despondent. Every team at this stage will say the same, that they still have a chance, that there's a reason there are seven games. But this team, this year, has even more reason to believe, the fact that they have achieved this once before.
"We believe we're going to win. We believed it in Cincinnati, so I don't see why we wouldn't believe it now," Giants reliever Jeremy Affeldt said. "I think if anything, the playoffs this year, especially, have shown everybody that in baseball it's not really over until the very last out. You saw what St. Louis did in D.C., that's pretty incredible. What we did in Cincinnati, everyone said it was pretty much impossible to do it in their place and we did it. Detroit did it in New York. 
"There's a lot of things going on. So I don't expect those guys over there to think they've got anything wrapped up until they've done it. For us, we're not going to allow anything to be wrapped up. We're not going to come out tomorrow and roll over. That's the nature of our team. We showed that in Cincinnati."
The Cardinals have certainly noticed. Not only did St. Louis have its own rally, they were aware of what the Giants did in Cincinnati.
"We know that it's a team capable of doing just about anything," Cardinals manager Mike Matheny said. "We just have to keep our head down, like I said. Keep your head down, keep playing the game. Keep doing things right. Stay aggressive, stay within yourself, do your piece, and trust that we can pull together and do what we need to do."
Perhaps the biggest difference for the Giants is that this time they need to win just one game at home, and the feeling is they will need only one patched together start from Zito and the team's heavily used bullpen. 
If the Giants can get that one game, then the pressure may start to mount on St. Louis, a franchise that has seen three 3-1 postseason series leads vanish -- the 1996 NLCS against the Braves, the 1985 World Series against the Royals and the 1968 World Series against the Tigers. The 1996 Cardinals and the 2003 Cubs are the only two National League teams to hold a 3-1 NLCS series lead and not go on to the World Series since it switched to seven games in 1985. Four American League teams have let a 3-1 lead vanish -- the 2007 Indians to the Red Sox, the 2004 Yankees to the Red Sox, the 1986 Angels to the Red Sox and the 1985 Blue Jays to the Royals.
"The way I look at it, Zito's been tremendous for us, so we've got to find a way to get it done [Friday]," Pence said. "If we go home to Vogelsong and Cain, we feel pretty confident."
For more baseball news, rumors and analysis, follow @EyeOnBaseball on Twitter, subscribe to the RSS feed and "like" us on Facebook.
The coveted right-hander would certainly be a fit in Milwaukee

We rate the best mustaches from random baseball cards because, why not?

Colon wants to break a Dennis Martinez record
The Twins have been rumored to be interested in Darvish all winter

Rolen is one of the best third basemen of all time, but you wouldn't know it based on this...

Neither Josh Donaldson nor Brian Dozier have talked about a new contract extension