Giants must hope Homer Bailey's no-hitter was rock bottom
After being no-hit on Tuesday, the Giants have now lost 10 of their last 12 games. They've been playing at a 58-win pace since mid- May.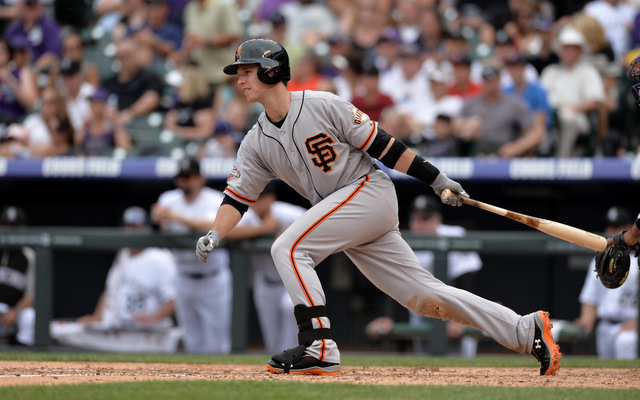 More MLB: Scoreboard | Standings | Probable Pitchers | Sortable Stats | Odds
The Giants have to hope Tuesday night was rock bottom.
The defending world champions were no-hit by Reds right-hander Homey Bailey on Tuesday, a marvelous pitching performance that deserves all the praise in the world. The no-hitter was also San Francisco's eighth loss in its last nine games and 10th in their last 12. If you want to go back really far, they're just 16-29 in their last 45 games. That's nearly one-third of the season.
The recent rough stretch combined with the rival Dodgers' strong play has dropped the Giants into last place in the ultra-competitive NL West, three back of the first-place Diamondbacks. It's actually rather amazing that they've only lost one game (!) in the standings during this 2-10 stretch. They should consider that a blessing given their poor play.
Losing 10 of 12 games usually takes a total team effort -- meaning both bad pitching and bad hitting. That's not entirely the case for San Francisco, however. Their pitching staff has a 4.07 ERA and 1.27 WHIP during that slump, which isn't bad at all. It's not what we've come to expect from the Giants, but it's hardly a disaster. The starters have a 4.35 ERA and 1.25 WHIP during the slump, the bullpen a 3.45 ERA and 1.31 WHIP. Not great, but not nearly bad enough to lose 10 of 12.
The offense, or lack thereof, is what has done the Giants in of late. They're hitting .208/.264/.331 as a team during the 12 games, scoring just 24 runs. They scored seven total runs during a three-game swing through Coors Field, just to give you an idea of how bad that it's gotten. Reigning NL MVP Buster Posey is hitting .295/.367/.636 during that time, driving in six of those 24 runs. The rest of the team has hit .197/.248/.291. Posey has been a one-man army.
Here is how three of the team's other notable hitters have fared during the recent slide:
Marco Scutaro: .167/.205/.190 including an active 3-for-26 (.115) slump.
Pablo Sandoval: .107/.167/.107 since coming off the DL eight games ago.
Hunter Pence: .209/.277/.372, including an active 2-for-20 (.100) slump.
Those are the No. 2, 4 and 5 hitters around Posey. So whenever he does something at the plate, there hasn't been anyone on base to drive in or anyone to drive him in. The Giants as a team have hit .218/.288/.331 with men on base and .143/.241/.243 with runners in scoring position during the stretch. That's no way to win ballgames.
The good news is that these players aren't nearly as bad as they've played of late. Scutaro, Sandoval and Pence will all start hitting at some point, likely very soon. They're also very fortunate they're still only three games out of first place, which is hardly an insurmountable lead at this point of the year. Jumping over four teams is much more difficult than jumping over one or two, however.
The bad news is that the Giants don't have much help on the way. Angel Pagan will miss most of the rest of the year following his recent hamstring surgery, and baseball's third-worst farm system (according to Baseball America) has little to offer via call-ups or trade fodder. San Francisco will have to snap out of this funk with the players who got them into it in the first place. With any luck, getting no-hit will be a wake-up call.
It's part of commissioner Rob Manfred's ongoing effort to improve pace of play

But one other team is prominently in the mix for the Marlins' slugger

Morgan went into the Hall in 1990 and has some strong words for PED users
Mark Appel was one of the players being moved about on Monday night

Garrett Cooper is the answer to a trivia question

We still don't know if Ohtani will be jumping to the majors yet