Giants, Pence agree on five-year deal, $90 million deal
Hunter Pence could have his deal back with the Giants announced as early as today or tomorrow.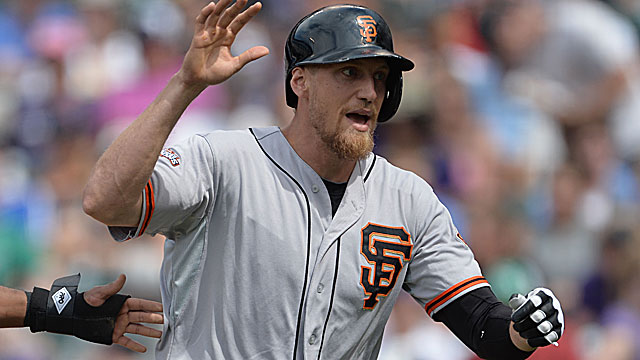 Hunter Pence is coming back to the Giants.
The deal is for $90 million for five years, CBSSports.com has learned.
Pence is said to have a no-trade clause in the deal. The deal is pending a physical, according to Giants writers.
An announcement could come as early as Saturday or Sunday. Neither the Giants nor Pence's agents at the Beverly Hills Sports Council were immediately available to confirm the contract.
Pence and Giants managing partner Larry Baer were seen talking about a contract in the clubhouse by Giants writers Henry Schulman, Alex Pavlovic and Andrew Baggarly and others last night, and all suggested a deal could be coming soon. Baer had joked with the writers that he was congratulating Pence on winning the Willie Mac award, the coveted Giants honor, but it's apparent now that the two men were discussing the deal.
Pence has told friends he wanted to remain with the Giants, where he helped win a World Series title last year, the Giants' second in three years. The Giants had made it a priority to retain Pence.
The Giants have made a habit of keeping their key players from their championship teams and are expected to try to retain Tim Lincecum and Javier Lopez, as well.
Pence was seeking a deal at least in the range of the $85 million, five-year deal Andre Ethier signed with the Dodgers. The San Jose Mercury News first mentioned Pence's interest in the Ethier deal as a comp.
The Giants early in the talks suggested something closer to the Nick Swisher deal ($56 million, four years) but talks apparently accelerated in the past few days.
Despite a seven-game ALCS, the Houston rotation lines up nicely for the World Series

Sabathia and the Yankees are a perfect fit for each other

Bregman threw out Greg Bird at the plate to preserve the Astros' lead
The Yankees returned to contention even quicker than their front office expected

The 2017 World Series begins Oct. 24

The Dodgers have the better defense, rotation, and bullpen, in our estimation