Giants' price high on Lincecum, Pence with qualifying offers planned
The demand for Pence should be higher than Lincecum, so there's a much better chance he might be dealt.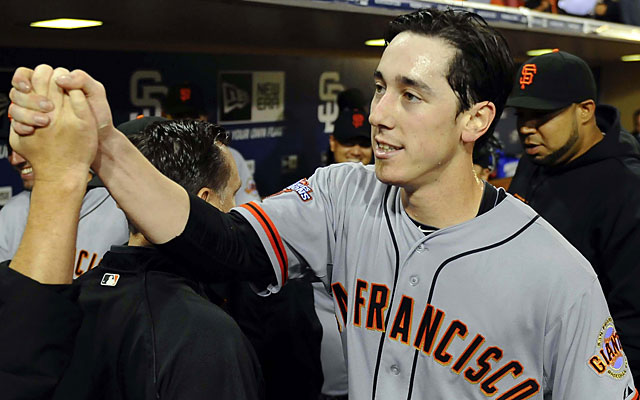 The Giants are listening on potential trades for outfielder Hunter Pence, starter Tim Lincecum and reliever Javier Lopez, their three major free agents, but a person connected to the organization Giants pegged the price as "very strong" on Pence and Lincecum.
One reason the ask is high on both players, sources say, is that the Giants plan to make a qualifying offer to both after the year, which would bring them a coveted draft choice assuming neither player takes the offer. The qualifying offer is expected to be slightly higher than the $13.3 million it was last year.
The high demand on Pence won't necessarily prevent a deal since he will be in great demand in a market soft on outfielders, with the Rangers and Pirates being the most obvious but not the only ones. The Royals, who don't look like sellers anymore after getting to .500, have been looking at right field, as well.
The asking price for Lincecum is more likely to keep him in San Francisco. While Lincecum has had his moments (the no-hitter for one), his $21 million salary is high. The Giants person also noted that there's a strong attachment to Lincecum on the part of the fans and the origanization, as well.
Bird missed time in 2017 due to the same foot

Johnson was leaning on the dugout railing when he was struck

Michael Rusk uses multiple algorithms pooling with recency bias to produce optimal MLB pic...
Sale was hit on the leg by a line drive

The A's will ask Giants fans to pay up or to cast aside their fandom

The Marlins' roster is a mess