Giants seek starters; Pagan more likely than Posey to change spots
The San Francisco Giants are eying starting pitchers. They could also look for a center fielder, and move Angel Pagan to a corner spot.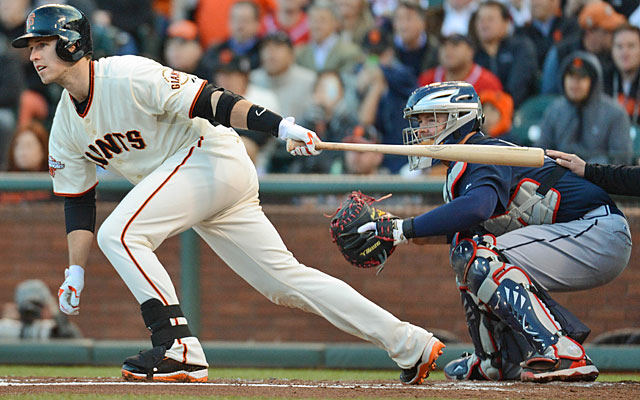 ORLANDO -- The Giants are focusing on starting pitching at the moment but may be open to at least one position change as they survey the every-day player market, as well.
The Giants are said to be committed to keeping former MVP Buster Posey as the full-time catcher, meaning they are not a realistic option for free-agent atcher Brian McCann despite interest. It appears San Francisco is more open to moving center fielder Angel Pagan to a corner spot. The team is concerned that Pagan was limited to 71 games due to leg injuries in 2013. That could mean a look at free-agent center fielder Jacoby Ellsbury or trade possibilities (Denard Span is one center fielder who could be available).
Although the Giants like McCann, it appears there probably isn't a fit with Posey, the 2012 NL MVP, still expected to catch the bulk of the games.
Meantime, the starting-pitching market is the emphasis. The Giants have shown interest in Matt Garza, Ervin Santana, Ubaldo Jimenez and many other free-agent starters. The Giants feel they have three very good pitchers to fill their top three slots with Matt Cain, Madison Bumgarner and Tim Lincecum. So while they may wind up with a mid-rotation starter, they are looking at the better pitchers on the market as well. The Giants will lose veteran starters Barry Zito and Ryan Vogelsong, whose options they declined.
The team's media contracts expire following the 2019 season

San Francisco could use more help in the outfield and at the back of the rotation

The White Sox, Athletics, Orioles and Marlins are the holdouts after the Blue Jays and Angels...
Molina's deal expires after the 2020 season

Sheffield has the numbers to make it to Cooperstown, but he has received very little suppo...

Granderson heads north of the border for his age-37 season