Giants throw World Series curves: Bumgarner to start Game 2, Cain Game 4
SAN FRANCISCO -- Kings of the unexpected this postseason, the Giants threw a curve Barry Zito would be proud of on Tuesday in naming their World Series rotation. ...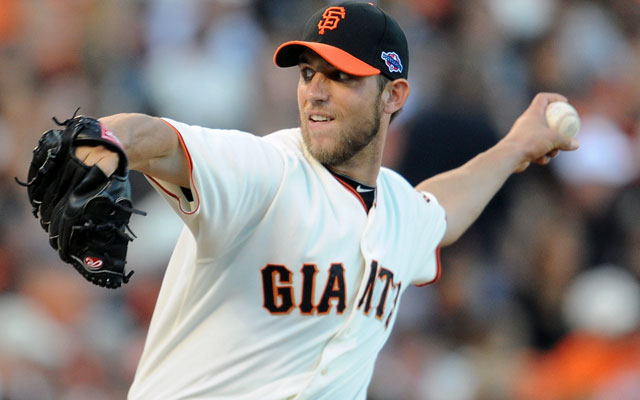 Madison Bumgarner, who has struggled mightily in his last two stars, will take the mound Thursday.
(US Presswire)
SAN FRANCISCO -- Kings of the unexpected this postseason, the Giants threw a curve Barry Zito would be proud of on Tuesday in naming their World Series rotation.

It was pretty much assumed over the past 24 hours that Zito, a great story in resurrecting his career in 2012, would start Game 1 on Wednesday night against the Tigers.

It was not assumed that Madison Bumgarner would start Game 2.

But he is, followed by another interesting wrinkle: Ryan Vogelson in Game 3 on Saturday, and then Matt Cain in Game 4 on Sunday.

The Tigers counter, as expected, with Justin Verlander, Doug Fister, Anibal Sanchez and Max Scherzer.

"Madison has had a break, which we wanted to give him," Giants manager Bruce Bochy explained. "It's allowed him to get some bullpens in, and work on some things.

"I know he got off of his good mechanics there a little bit, so I know [pitching coach] Dave Righetti and Madison have been working hard on that."


More on World Series
Columns

Stories
The break Bochy is talking about: Bumgarner's last start was a week ago Sunday. He has not worked in a game since.

Just 23, there have been real questions regarding whether he's simply hit the wall for 2012. He threw 208 1/3 innings during the season -- the second consecutive summer in which he's worked 200 or more -- and he finished with a handful of rough outings and diminished velocity on his fastball.

Then, in the postseason, Bumgarner has been slaughtered for an 11.25 ERA over two starts, surrendering 10 earned runs over eight innings. His fastball velocity has remained down a few ticks, and his command has been unsteady.

Essentially, Bochy and Righetti are handing the ball to Bumgarner over Tim Lincecum.

"As far as Timmy, we just think he's better served for this club at this point helping us out of the bullpen," Bochy said. "He gives us another weapon there. He's resilient. I can use him back-to-back days. I can use him three or four innings if necessary.

"If something happens, I can start him. So we think that's the best way to go right now."

Slotting Cain, who started Monday's clincher, behind Vogelsong also ranks as a mild surprise. Cain could have started Game 3 on Saturday on regular rest, and then been lined up for Game 7.

"Well, I like the way Vogelsong is throwing, too," Bochy said. "He's throwing the ball as well as anybody on the staff, so we just kept it in order. If Vogelsong gets the last start, we have no problem with that.

"I know Matt has worked hard, he's got a lot of innings. I didn't' think we needed to flip-flop the two, to be honest, the way Vogey is throwing."

The Zito-Bumgarner combination means the Giants are opening the World Series with back-to-back left-handers facing the Tigers. Detroit during the season went 26-25 against left-handed starters, and 62-49 against right-handers.

How far has Zito come? The Giants left him off of their postseason roster during all three rounds in 2010.

"For him to keep grinding, as we say, and trying to get better, for him to be at this point and starting the first game, I was really glad, proud to tell him," Bochy said. "I told him that, that I'm glad to hand you the ball on the first game, with all he's been through and the way he's handled it. It's been off the charts."
Francisco leads the Dominican Winter League with seven home runs

Thome deserves enshrinement and here's why the case against him does not hold up

The Twins have already fortified the bullpen with Addison Reed, and now they want to address...
The Orioles likely want pitching, and the Indians have plenty of it

Halladay died in a November plane crash off the coast of Florida

The power-hitting outfielder is headed to Toronto