Giants' win leaves us wondering: Are these guys ever going to give up a run?
Forget about luck. This World Series is all about pitching, and it's all about the Giants. They shut out the Tigers again in Game 3, and with one more win they can take away their second World Series title in three years. The big question now: Are these guys ever going to give up a run?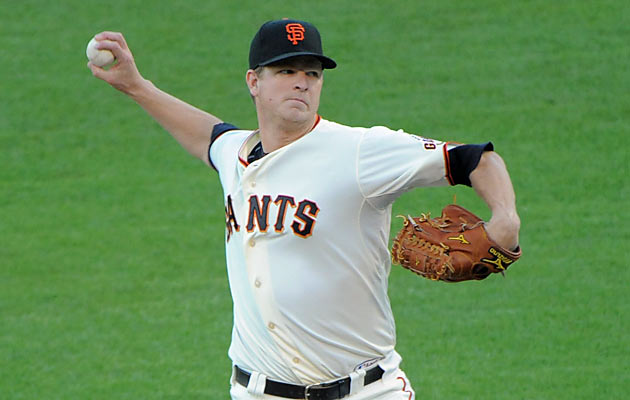 The Giants, who have been unhittable in the World Series, throw ace Matt Cain at the Tigers for Game 4. (US Presswire)
DETROIT -- It's not weird anymore.

It's not weird, and it's not lucky. The Giants aren't a game away from winning their second World Series in three years because of any higher powers, unless those higher powers are named Zito, Bumgarner, Vogelsong and Cain -- with a little assistance from a guy named Lincecum.

Seriously, are these guys ever going to give up a run?

Game 3 Saturday night ended up as a 2-0 Giants win, which should sound familiar because Game 2 on Thursday also ended up as a 2-0 Giants win. And if this is all starting to look a bit familiar, it should, because the Giants also shut out the Rangers twice on their way to winning the 2010 World Series.

You know how many teams in the last 46 years have thrown two shutouts in a single World Series?

Two. The 2010 Giants, and now the 2012 Giants.
More Tigers-Giants coverage
More World Series Coverage

The Giants beat the Rangers in five games in 2010. They might do that one better and sweep the Tigers in four games this year.

Seriously, are these guys ever going to give up a run?

"I think this is what good starters do in the playoffs," said Giants reliever Jeremy Affeldt.

This is what the Giants starters have done over the last six games (the final three of the NLCS against the Cardinals, and the first three of the World Series against the Tigers): 38 2/3 innings, two runs, for a 0.47 ERA.

In three games against the Tigers, the Giants' staff has given up three runs total -- and all three came after the Giants had taken a 6-0 lead through five innings of Game 1.

"To answer your question, no, I wouldn't want to face them right now," Giants hitting coach Hensley Meulens said.

Who would?

Plenty of people are going to compare this to 1966, when the Orioles shut out the Dodgers in the final three games of a four-game World Series sweep.

Sorry, this isn't the same thing.

The 1966 Dodgers were shut out 17 times during the regular season. The 2012 Tigers were shut out twice (plus once in the Division Series against the A's).

The 1966 Dodgers had Lou Johnson batting third. He led the league in one category that year -- number of times hit by pitch.

The 2012 Tigers have Miguel Cabrera. Baseball honored him again Saturday for winning the first Triple Crown since 1967.

The Giants have taken a team that can hit and made it look ordinary. They've made shutdown innings seem routine, and they've made shutouts look as common as they were back in the mid-1960s.

"Our starters have been great," catcher Buster Posey said. "And our bullpen has been really good."

It's what they do.

"I think I'm spoiled a little bit," said Posey, who gets to catch these guys every day.

The names aren't always the same. Tim Lincecum has moved from No. 1 starter to key middle reliever (proven again with 2 1/3 hitless innings Saturday). Barry Zito has moved from not good enough to make the roster to good enough to shut down the Cardinals in Game 5 and do the same to the Tigers in Game 1.

Ryan Vogelsong has stepped in, and has done just what he did to the Tigers in Saturday night's Game 3. He wasn't thrilled with his four walks in 5 2/3 innings, but you can bet the Tigers were even less pleased with their zero runs.

Vogelsong's walks helped give the Tigers chances, but that just left them more frustrated. The only time it seemed things might change was in the fifth inning, when the Tigers loaded the bases with one out. Vogelsong struck out Quintin Berry, and followed that by getting Cabrera on a little pop-up to short.

"Give Vogey credit," Posey said. "He executed two pitches, and he got the best hitter in the game out."

Give the Giants credit, and not just the pitchers. One difference from 2010 is that the defense has improved, something that was definitely by design. The Giants feel like they're better defensively at four spots: first base (Brandon Belt), shortstop (Brandon Crawford), left field (Gregor Blanco) and center field (Angel Pagan).

Sure enough, Crawford and Blanco have made big defensive plays to help preserve the two straight shutouts.

"The pitching motivated us to improve the defense," vice president of baseball operations Bobby Evans said.

The pitching motivates everything with this team. Pablo Sandoval had two more hits Saturday and seems headed towards a World Series MVP trophy, but it would be fairer and more accurate to say that the Giants' pitching is winning this World Series.

Pitching coach Dave Righetti resisted any talk of 1966, and preferred not to go into any detail on the stretch of six games with that 0.47 starters ERA.

"When the stretch ends, I'll let you know [how it's been]," Righetti said.

Here's something we can tell you already, courtesy of the Elias Sports Bureau: The Giants are just the second team in history to have starting pitchers win the first three games of a World Series while allowing no more than one run in each game.

The only other team to do it was the 1937 Yankees, with Lefty Gomez, Red Ruffing and Monte Pearson.

The Yankees' streak ended in Game 4, when Bump Hadley didn't make it out of the second inning. The Giants have Matt Cain, who won 16 games and will appear on some Cy Young ballots, ready to go on Sunday.

"We have a good pitcher going, but they have a great pitcher going, too," Affeldt said.

He's right. Max Scherzer, who has allowed just one earned run in 11 innings this postseason, starts Game 4 for the Tigers. Justin Verlander, who can't possibly have another game as bad as Game 1, would start if the Tigers can force a Game 5.

But we only get to Game 5 if the Tigers win Game 4, and that can only happen if the Tigers figure out a way to score.

The way the Giants are pitching, are you ready to predict that?

Seriously, are these guys ever going to give up a run?
Contreras said on Tuesday that he's willing to pay the price

And their offseason decisions prove it

Hosmer recently signed an eight-year contract with San Diego, and his usual No. 35 was spoken...
As part of the five-player deal, Brandon Drury is headed to the Bronx

Stoneman Douglas caps will be worn during Friday's spring training games

Arrieta is the top starting pitcher left on the market