Giants won't trade Lincecum, but is there a chance move to pen could hold?
Lincecum is too popular (and maybe too expensive) to be traded. But the Giants may have to consider a move to the bullpen at some point after Lincecum's postseason brilliance in that role.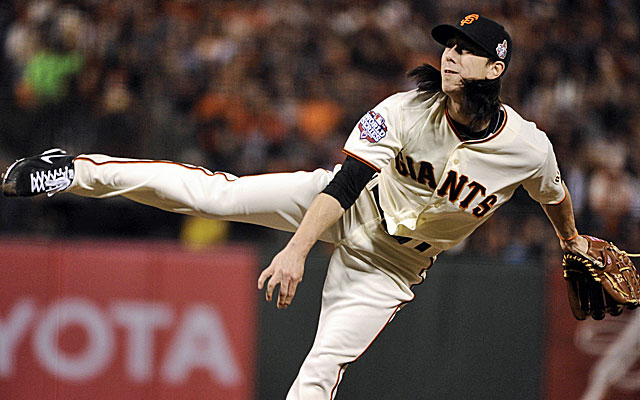 Tim Lincecum's unreal popularity in San Francisco is one reason the Giants won't trade him. (US Presswire)
SAN FRANCISCO -- The San Francisco Giants won't look to trade two-time Cy Young winner Tim Lincecum, according to people familiar with the situation. But another type move at some point -- to the bullpen to become closer -- can't be ruled out at this point.
"No way he'll be traded. Do you see how the fans respond to him?'' one person connected to the Giants said.
Lincecum's unreal popularity in this town is one reason the Giants won't trade him. The other major hindrance to a trade is his contractual situation. Lincecum has a year to go at $21.5 million on his deal before he becomes a free agent after the 2013 season, and after his surprisingly poor regular season as a starter no team could be expected to absorb that salary without some sort of offset.
More on World Series
Related links
There have been reported suggestions he might be traded or at least shopped. But a move to the bullpen at some point is much more logical.
The Giants are planning at present for Lincecum to be back in the rotation next year, with a couple adjustments to his mechanics and offseason routine. There is a belief among Giants people that one reason he's more equipped for the pen at the moment is that he's in shape for shorter bursts, and perhaps not the longer hauls required to start.
Understandably, the Giants aren't publicly discussing any such possible long-term changes now, as both he and the team are currently revelling in his terrific transition to the pen in the postseason, which has been key for the Giants. He struck out five of the seven Tigers he faced in the Giants' 8-3 Game 1 victory, and overall he has a 0.38 WHIP in relief this postseason.
His salary would normally dictate that all efforts to start are made. So a switch wouldn't be made easily. Still, it may have to be considered seriously at some point.
Lincecum, with his unusual delivery and all-out style when in relief, might be a natural as a closer. Many folks have thought his slight build would lead him to become a closer eventually -- although, Lincecum has made a career out of defying experts.
Giants closer Brian Wilson could be back by mid-year next season after his second Tommy John surgery cost him this season (though returns from multiple TJ surgeries are not givens), and while Sergio Romo has done fine in the closing role in Wilson's absence, most scouts suggest Romo doesn't really have closer stuff.
That's where Lincecum could come in. Though it's also quite likely he'd prefer to remain a starter, and it's possible he may take some convincing if the Giants are so inclined at some point -- a friend of his said, "I think he has a lot more starter gas in that tank'' -- his postseason relief brilliance is fairly compelling.
To go with that 0.38 WHIP in relief in the postseason, he has 14 strikeouts and only one walk, three hits and a 0.84 ERA in taht tile. Meanwhile, he had a 1.93 WHIP and 7.71 ERA from his one postseason start.
"I'm doing better out of the bullpen,'' Lincecum acknowledged after Game 1. "I'm just going to ride that. I'm not going in there thinking. I'm just airing it out ... I can eliminate further thoughts that can creep in there. I'm just thinking about outs.''
To his credit, Lincecum didn't complain about the limited starting opportunities in the playoffs, and readily accept his new role as reliever and spot starter. He warms up amazingly quiickly, too, which makes him a natural reliever.
Of course, going into this season Lincecum was considered one of the best starters in baseball. And some may wonder whether a $21.25-million salary can be justified for a reliever.
Giants people will say behind the scenes they believe Lincecum had too much time to think as a starter this year, which they believe led to a startlingly uncharacteristic season that included a 10-18 record and 5.18 ERA, which was the highest ERA among qualifiers in the N.L. Many changes were tried, including a catcher switch from probably N.L. MVP Buster Posey when Lincecum pitched.
Giants people believe Lincecum could still thrive as a starter if he made a few mechanical adjustments, so new immediate move may be made. The other theory as to why he struggled as a starter this year was that while he came to camp thinner than usual, he didn't throw enough this winter and wasn't really in pitching shape.
Whatever the case with Lincecum, we've long learned not to bet against him, no matter what the role.
Wright was arrested at his home Friday

The former Tigers teammates were voted into Cooperstown by the 16-person Modern Era Commit...

The Yankees still have room for a good-sized signing even after Saturday's trade with Miam...
St. Louis gets some much needed help for their bullpen

Keep tabs on the top 50 free agents right here

Morrow thrived with the Dodgers last season