Giants would be foolish to retaliate by hitting Holliday
San Francisco already got its revenge by winning Game 2. Now let's hope Bruce Bochy means it when he says it's over.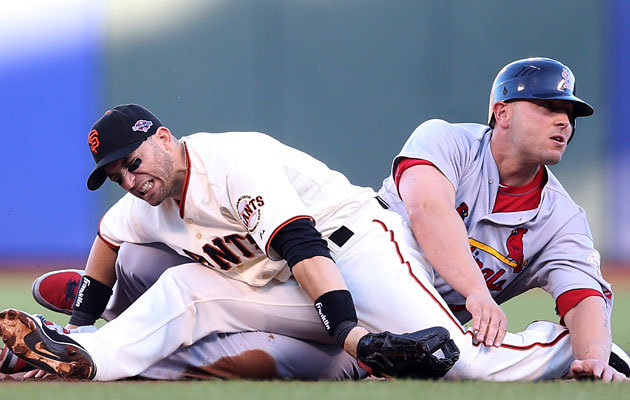 Marco Scutaro is in the Giants' lineup for Game 3 after this late, hard slide by Matt Holliday on Monday. (Getty Images)
ST. LOUIS -- Great to see scrappy, tough Marco Scutaro in the San Francisco Giants' lineup for Game 3 on Wednesday. Now let's hope the Giants don't seek further revenge for Matt Holliday's ill-advised slide.
The Giants are a classy organization and an overachieving team filled with admirably tough guys. No need to prove how tough they are by doing something foolish in Game 3 (i.e., throwing at Holliday).
The Giants already got their revenge by slamming the Cardinals 7-1 on Monday after Holliday slid way too late and injured Scutaro's hip to the point where his status was questionable for Game 3. The issue should be over.
Beating the world champion Cardinals is quite obviously the best revenge. Scutaro's bases-loaded single that keyed the Giants' Game 2 victory was the perfect answer to Holliday's far-too-late hit on Scutaro, and poetically, Holliday even made an error on the play.
That was a great response by the Giants. Hopefully, there's no more to come.
"It's over," Giants manager Bruce Bochy said.
Hopefully, it really is.
Giants pitcher Matt Cain, their Game 3 starter, made what some could see as a suggestion it might not be quite over when he said, "If something gets away from you inside, that's part of the game."
Cain can't be blamed for a cryptic comment or two. Nothing wrong with that. But he's better than retaliating.
Hitting Holliday with a pitch wouldn't do the Giants any good, as outs are precious against a difficult lineup. It's funny that's how baseball retalitation works. Holliday made a play that he hoped would enhance the Cardinals' chances to win, and the answer is supposed to be for the Giants to make a play (hitting Holliday) that might also enhance the Cardinals' chances. Seems more dumb than funny actually.
The Giants currently are wearing the white hats. Why change that by doing something that can only backfire?
The whole eye-for-an-eye idea is so old school that, frankly, it just seems barbaric. It's so 1960s.
Eventually, the best solution might be for MLB to more seriously consider a one-game ban for a dangerous slide. IF MLB can suspend for a dangerous pitch (and frequently does), why not a slide? Anyway, that's a story for another day.
The main thing is that it's great that the Giants settled their score on the scoreboard. That's the way to do it.
Neither Josh Donaldson nor Brian Dozier have talked about a new contract extension

Francisco leads the Dominican Winter League with seven home runs

Thome deserves enshrinement and here's why the case against him does not hold up
The Twins have already fortified the bullpen with Addison Reed, and now they want to address...

The Orioles likely want pitching, and the Indians have plenty of it

Halladay died in a November plane crash off the coast of Florida