Gibson, Ausmus could be candidates to replace Leyland with Tigers
Former Tiger players Kirk Gibson and Brad Ausmus are on the Tigers' list of potential successors to Jim Leyland. But Gibson remains under contract with the Diamondbacks, who are unlikely to allow him to leave.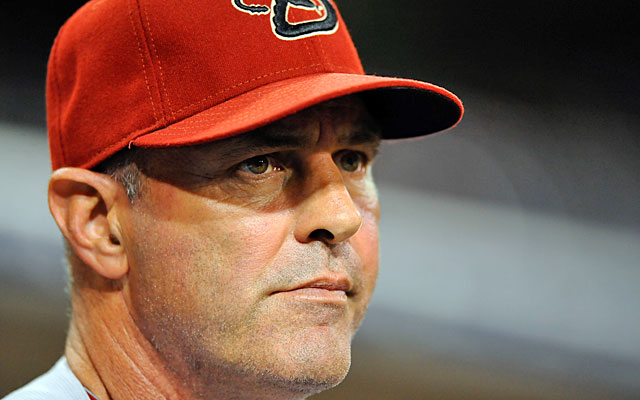 Kirk Gibson helped bring the Tigers their last World Series title.
Could he also bring them the next one?
Gibson is on the Tigers' list of possible successors to Jim Leyland, sources say. But Gibson remains under contract with the Diamondbacks, who invited him back after a disappointing 81-81 season and are very unlikely to allow him to leave for Detroit.
Brad Ausmus, another onetime Tiger, is also on the team's list, and Leyland is likely to push for the job to go to either Lloyd McClendon or Gene Lamont, two former managers who have been on his Tigers coaching staff for his entire eight-year run.
Another name the Tigers could consider: Red Sox bench coach Torey Lovullo, who began his career as a Tiger player. Dusty Baker would be a possibility, although Baker's age (64) could work against him.
While Leyland said Monday that he won't be involved in the decision, many people in the Tiger organization expect general manager Dave Dombrowski to consult with him. 
Gibson grew up in Michigan and still has strong ties there. He worked as a Tigers broadcaster after he was done playing, and spent three years as bench coach when his good friend Alan Trammell was Tigers manager.
Ausmus has been a hot name among managerial candidates the past two years. He recently interviewed with the Nationals (although he isn't expected to get that job), and he was under consideration last winter with the Red Sox and Astros.
McClendon managed the Pirates for 4 1/2 years, and Leyland has long believed that he should get another chance.
At the Monday press conference to announce Leyland's retirement, Dombrowski said previous managerial experience was a plus, but not a must. Ausmus has never managed in the major leagues or in the minors, but ran Team Israel last year in the WBC.
The Tigers job is an attractive one, with a team that has been to the playoffs three straight years and will be favored to make it four in a row next seasons. The Tigers have one of the highest payrolls in baseball, and will likely to continue to spend as long as Mike Ilitch owns the team.
Ilitch is 84 years old, and some wonder if his family will show the same commitment that he has. But with stars like Miguel Cabrera and Justin Verlander signed through next year (and beyond, in Verlander's case), there should be enough talent for a few more runs at Ilitch's elusive goal of winning a World Series.
Several players called for the netting to be extended down the base lines following Wednesday's...

Maria made landfall as a Category 4 on Wednesday

The players are trying to do their job and don't want to see anyone hurt
The child is receiving medical attention at an area hospital, the Yankees said in a statem...

Brantley has not played since August 8 due to an ankle injury

Plus the Red Sox can lock down a postseason spot and all you need to know from the world of...