Gibson: Sluggish Diamondbacks are 'not that far off'
A year after winning the National League West, the Diamondbacks entered the weekend with just a 13-13 record. But manager Kirk Gibson reminds us that the Diamondbacks started worse than that a year ago, and says, "We're not that far off."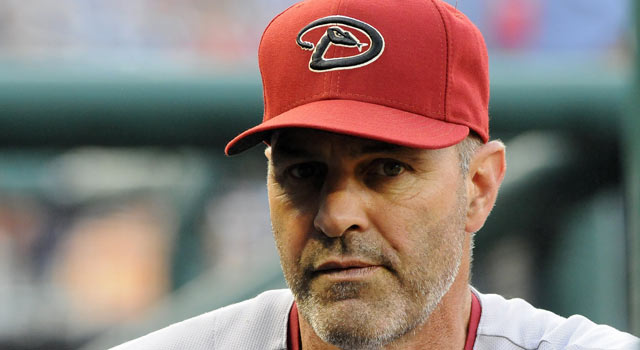 Kirk Gibson is not sweating his team's slow start.
(Getty Images)
NEW YORK -- A year after their surprising run to the National League West title, the
Diamondbacks
are off to a so-so start.
That's one way to look at it.
A year after going 11-15 through 26 games, the Diamondbacks had a 13-13 record heading into this weekend's series with the Mets.
And yes, that would be the Kirk Gibson way of looking at it.
"We're better than we were at this point last year," the Diamondbacks manager said Friday. "We have the ability to get on a roll. Good teams do that."
Diamondbacks players talk about trying to stay above water until they get center fielder Chris Young and starting pitcher Daniel Hudson back from the disabled list.
Gibson said Friday that Young (out since April 18 with a right shoulder contusion) has begun hitting off a tee, but has yet to take batting practice. Hudson (out since April 21 with a right shoulder impingement) is still another 2-3 weeks from returning.
As the weekend began, the Diamondbacks were 6-9 in 15 games since Young was hurt, and they'd been held to two runs or fewer in seven of the 15 games.
"We're not that far off," Gibson said. "We've lost more one-run games than we'd like [nine, including two this week in Washington]. You'd like to just catch fire, get on a roll."
Last year's Diamondbacks did that in May, going 19-10 and moving into first place in the West by the end of the month.
Can it happen again?
You already know what Gibson thinks.
From 1 to 25, the L.A. Dodgers have the squad to overcome the pitfalls of October baseball

After Tuesday night's win over the Cubs, the Dodgers are now 6-0 in the 2017 playoffs

Los Angeles beat Chicago once more in Game 3 of the NLCS in Chicago
The 2017 World Series begins Oct. 24

The Astros will need Dallas Keuchel and Justin Verlander to take the pressure off in Games...

Judge and Sanchez played huge roles in the Game 4 comeback