GIF: Buck Showalter just wants the !@#$ headphones, please
On Sunday, O's manager Buck Showalter was ejected for making a vigorous request to speak directly with replay officials.
More MLB: Power Rankings | Expert Picks | Latest news & notes | Fantasy news
In seventh inning of Sunday's Cardinals-Orioles tilt (STL 8, BAL 3), an out call at second base wound up being overturned because, according to the replay official, Baltimore second baseman Jonathan Schoop never had full control of ball. Here's a look ... 
Blah, blah, blah. Disputed call in a close game between contenders. 
The really important thing is that O's skipper Buck Showalter was displeased by the decision to the point of spitting lava and saying Cinemax words and elevating his neck veins to indignant prominence.
Really, though, the whole thing could've been avoided if they'd have just let Buck have the !@#$ headphones and talk some sense to that cockamamie replay guy in New York ...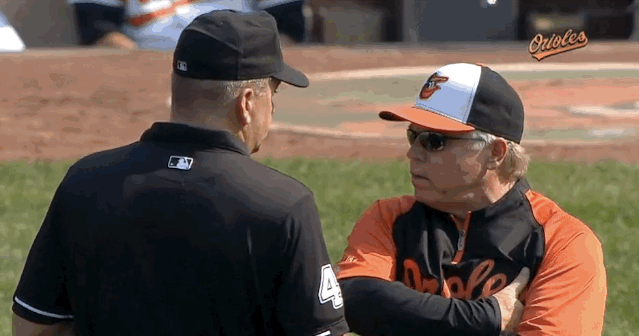 If, in the course of placing a call to the customer service department of your cable or satellite provider, you've murderously brayed, "REPRESENTATIVE!" at the voice prompt, then you can relate to Mr. Showalter's desire to gnaw through the ties that bind and speak hard truths to those who resist hearing them. 
Buck Showalter will be receiving a $5 credit toward next month's bill. 
Pawol is expected to umpire in the minors again come the regular season

No. 3 Texas Christian is looking to ruin Long Beach State's return home

Martinez's physical isn't taking much longer than usual
The Rangers have a lot riding on Mike Minor and Matt Bush

Though the process is far from complete, taxpayers got good news Thursday

Dickerson had been designated for assignment by the Rays last week