GIF: Eric Sogard catches line drive, gets knocked down by broken bat
Athletics infielder Eric Sogard had a choice to make on Thursday: either catch a line drive or dodge the broken bat flying towards him.
More MLB: Scoreboard | Standings | Probable Pitchers | Sortable Stats | Odds
It's amazing we don't see this happen more often. On Thursday afternoon, Athletics infielder Eric Sogard was hit by a broken bat as he fielded a soft line drive. Since the MLB.com video is not yet embeddable, here's a GIF: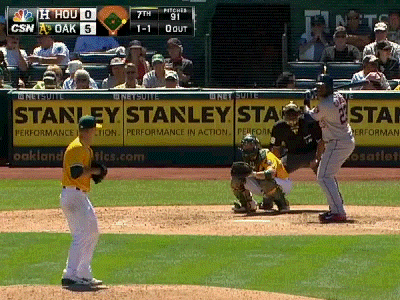 Sogard stayed in the game and was fine, but the end of that broken bat was really sharp and could have done some serious damage. He's pretty lucky this wound up a blooper rather than something more serious.
Like I said before, it's amazing this doesn't happen more often. I guess most broken bats wind up in foul territory or in the shallow infield.
Among other penalties, No. 1 international prospect Kevin Maitan is now a free agent

Judge underwent the arthroscopic procedure on his left shoulder on Monday

Giancarlo Stanton trade rumors are hot right now
It's part of commissioner Rob Manfred's ongoing effort to improve pace of play

But one other team is prominently in the mix for the Marlins' slugger

Morgan went into the Hall in 1990 and has some strong words for PED users