GIF: How to catch a HR ball and how not to catch a HR ball
A recent Paul Goldschmidt grand slam provides both shining example and cautionary tale when it comes to retrieving a home run ball.
More MLB: Scoreboard | Standings | Probable Pitchers | Sortable Stats | Odds
Please regard the following color-television GIF of Paul Goldschmidt's eighth-inning grand slam during Tuesday night's Diamondbacks-Reds sports contest ...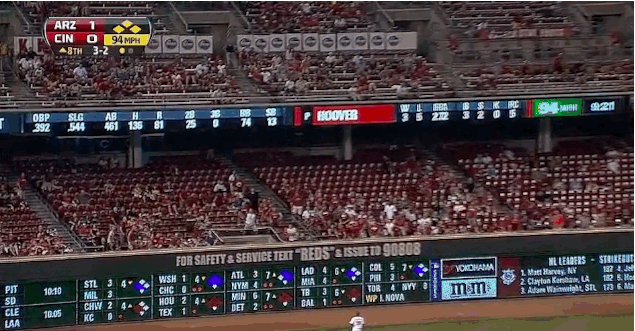 Note the differences in methodology when it comes to retrieving the cowhide souvenir.
The first guy -- the guy in the lower half of the screen -- behaves as though he's leaping for God and country in order to spare his platoon-mates from a live grenade. In reality, he's doing something substantially less important than that. 
Meanwhile, the guy five rows above is content to rise from his throne of fashionable indifference and bend over and pick up what eluded the other, irrationally exuberant buckaroo. The former's understated efforts are such that a lovely ballgame-going maiden stands up and ritually thanks him for what he has done. 
This is why the guy with the ball will forever be known as Dudley Good Times, while the guy who put a flying body block on most of his row will continue to be called Ol' Dumb and Stupid Pete.
(Wink of CBS eye: @stlouis0)
The super agent is aiming high for free-agent starting pitcher Jake Arrieta's payday

Marcell Ozuna figures to be the next Marlins star on the move

Several relievers have signed in the last two days
Several teams are interested in the switch-hitting first baseman

Neshek and the Phillies are closing on a two-year contract

And the team that first drafted Cole is interested