GIF: Kid with popcorn bucket on head pays for foul ball exuberance
This young lad at Wednesday night's Diamondbacks-Nationals game was perhaps a bit too eager to snag a souvenir baseball.
It is known that the people will stomp and shout slogans at the merest glimpse of a dot race or t-shirt cannon. It is also known that people will pursue a foul-hit baseball with the zeal of the converted. Such was the case for the unfortunate young man to follow, who was in attendance at Wednesday's Diamondbacks-Nationals contest (WAS 3, ARI 2). You shall know him by the popcorn bucket on his head ..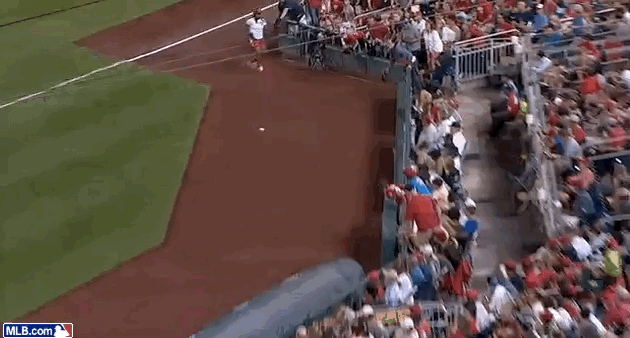 Not only did the young man get struck in the chops by a cowhide orb, but he also fell onto the field with a popcorn bucket on his head. As Billy Ray Cyrus crooned then, now and forevermore: All gave some, but some gave all. 
He was fine, by the way. The kid, not Billy Ray Cyrus. 
(Wink of CBS eye: Deadspin)
L.A. manager Dave Roberts indicated that Puig's benching was related to more than one inci...

Manager Torey Lovullo said so on Monday
Let's see how SportsLine forecasts the race for MLB's 10 playoff spots

Monday kicks off the final week of MLB action. Let's take a look at everything that went d...

No other rookie in baseball history has hit more home runs than Judge has this year