GIF: Matt Adams pushes Reds fan with his glove
Cardinals first baseman Matt Adams pushed a fan in Cincinnati Thursday. Here's the GIF so we can start yelling and screaming about whether or not it was OK.
More MLB: Scoreboard | Standings | Probable Pitchers | Sortable Stats | Odds
In the bottom of the third inning of the Cardinals-Reds tilt in Cincinnati Thursday, this happened: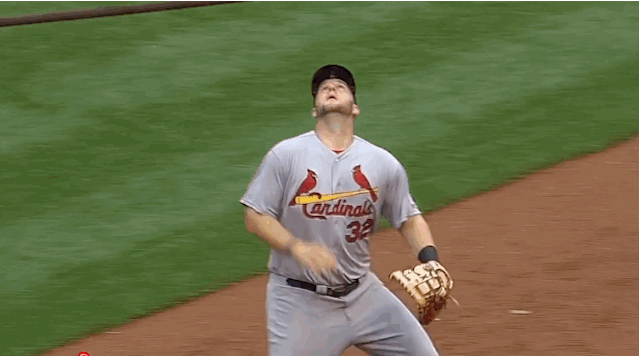 Yes, that would be Cardinals first baseman Matt Adams pushing a Reds fan, possibly in frustration, after failing to catch a foul ball going into the stands.
Now, let's not make a mountain out of a molehill here on the act itself. That wasn't a hard push. It definitely wasn't a "hit." In the grand scheme of things, it's probably relatively harmless. I might even entertain arguments -- surely from the St. Louis area -- that Adams was giving the fan an "atta boy" tap for the catch (actually, I probably won't entertain those arguments).
There is, however, an issue here to at least calmly discuss.
Adams was venturing into the domain of the fans. No fans in the front row did anything wrong at all prior to the little push. The fan stood straight up and had his glove pointed straight in the air. If some words were said -- and it really doesn't look like there were -- Adams needs to realize he's the professional athlete and be the bigger person by doing nothing in return. Now, if a fan had the audacity to hit him first, all bets are off. But that didn't happen. Adams was unprovoked and pushed a fan (Cincinnati.com has the backstory on the fan), even if a very soft little shove.
I've previously called for the suspension of a player for shoving a fan in Cincinnati -- that one was much more violent and egregious. While I'm not sure discipline is needed here, it's at least worthy of consideration because players need to realize there's a line that can't be crossed. You cannot put your hands on a fan in the stands like that. Again, if a fan punches Adams, you'd find no bigger supporter of him flat-out slugging the hooligan than me. But physically unprovoked when the fan does nothing more than catch a ball that's already in the stands? You can't do that. There's simply too much hostility that already exists between hometown fans and visiting players -- and it's a recipe for disaster.
So, please, players, don't do anything like this anymore. It might seem harmless until one moron fan charges onto the field and we get baseball's version of Malice at the Palace.
Soon more home runs will have been hit in 2017 than in any other season in MLB history

Ferrell somehow avoided going to the ground

Plus, we saw a possible AL Wild Card Game preview in the Bronx and lots more from around M...
The Pirates disappointed in 2017. Will 2018 be any different?

Let's see how SportsLine forecasts the race for MLB's 10 playoff spots

This has only previously happened twice in history in non-strike seasons