GIF: Salvador Perez throws runner out from knees, tips cap to dugout
Salvador Perez threw the speedy Brian Dozier out from his knees on Thursday night. Then he tipped his cap to his teammates in the dugout.
Royals catcher and perfume-wearer Salvador Perez is one of the best catchers in baseball by just about any measure. The 24-year-old went into Thursday night's game hitting .265 with a career-high 15 home runs, and he also has a cannon for arm.
Don't believe me? Perez threw out 20-stolen base man Brian Dozier from his knees in the ninth inning of a tie game on Thursday. He was out by a mile too. To the action footage: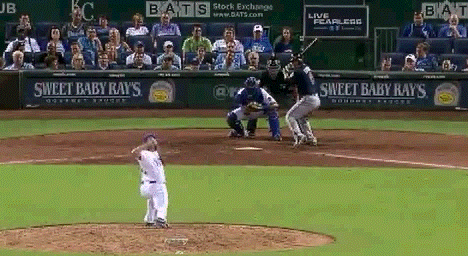 First things first: holy smokes what a throw. That was absolutely perfect.
Also, be sure to note the tip of the cap to his teammates in the home dugout. If I made a play like that, you can bet I'd want to gloat a bit. What a stud this kid is.
Despite an awful month, the Dodgers are again NL West champions

The record of 38 previously belonged to Hall of Famer Frank Robinson

The report also says that Jeter had outgoing president David Samson do the firing
This wasn't a traditional hidden ball trick, but the Blue Jays pulled it off

The Tigers essentially fired Brad Ausmus on Friday, but things are going to be ugly for a...

The club made the announcement on Friday