GIF: The ball hit Travis Snider's face in fair territory, so it's a double
Consider what follows to be something less than Travis Snider's finest moment in the field.
More MLB: Power Rankings | Expert Picks | Latest news & notes | Fantasy news
In your scorebooks, record the following as "2B-TSUF" -- i.e., "double off Travis Snider's unsuspecting face ...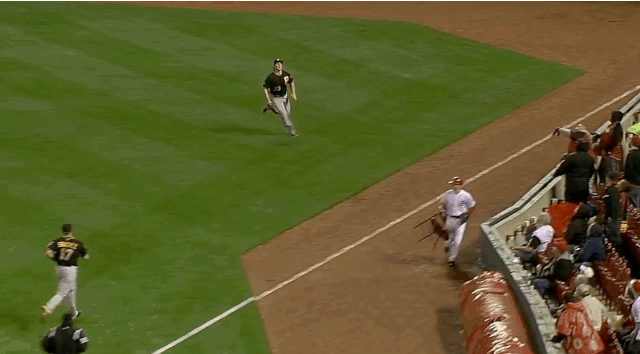 We can make light of this because Snider was OK and remained in the game. Initially the ball was ruled foul; however, upon review it was determined that the ball struck the face of the Pirates outfielder in fair territory, and Todd Frazier of the Reds was granted a double. 
Here's how GameTracker called it ... 

(Note: Call-to-action red arrow helpfully added.) The guess here is that Mr. Snider in general and Mr. Snider's battered chompers in particular would dispute the choice of adverbs. 
In any event, Mr. Snider later proved that living well is the best revenge, as he tallied a gentlemanly homer in the next half inning. 
The Twins have already fortified the bullpen with Addison Reed, and now they want to address...

The Orioles likely want pitching, and the Indians have plenty of it

Halladay died in a November plane crash off the coast of Florida
The power-hitting outfielder is headed to Toronto

Martinez could add some power to a Boston lineup void of it

It's almost that time of the year again, time for the Tebow madness to return