GIF: Trevor Bauer's curveball buckles Troy Tulowitzki's knees
Indians right-hander Trevor Bauer made Troy Tulowitzki jelly-leg with a nasty curveball on Saturday.
More MLB: Tulo leads All-Star Vote | Tulo dominating at home | Bauer brings heat
By just about any measure, Rockies shortstop Troy Tulowitzki has been one of the best players in all of baseball this year. You can make a very convincing argument he has been the very best.
The best players still make outs though. And sometimes they make outs in funny ways. Tulowitzki met his match on Saturday afternoon in the form of this curveball from Indians righty Trevor Bauer: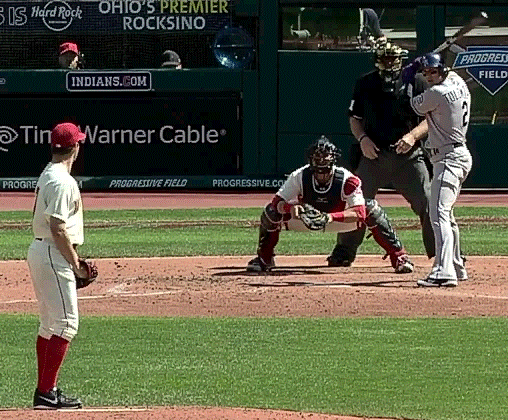 That is an A+ jelly-leg by Tulo. Here's the slow motion version, if you're interested.
Colon wants to break a Dennis Martinez record

The Twins have been rumored to be interested in Darvish all winter

Rolen is one of the best third basemen of all time, but you wouldn't know it based on this...
Neither Josh Donaldson nor Brian Dozier have talked about a new contract extension

Francisco leads the Dominican Winter League with seven home runs

Thome deserves enshrinement and here's why the case against him does not hold up