GIF: Yasiel Puig bat flips a hit by pitch
Yasiel Puig has been known to flip his bat during moments of triumph, and he did it Saturday night after being hit by a pitch.
MORE: Spring Training | Scoreboard | Team previews
Even though he only played 104 games with the Dodgers in 2013, we got to see plenty of Yasiel Puig bat flips last year. He bat flipped homers, triples, singles, whatever. If there was a bat to be flipped, he flipped it.
On Saturday night in the United States/Sunday afternoon in Australia, Puig subtly flipped his bat after being hit by a Trevor Cahill pitch: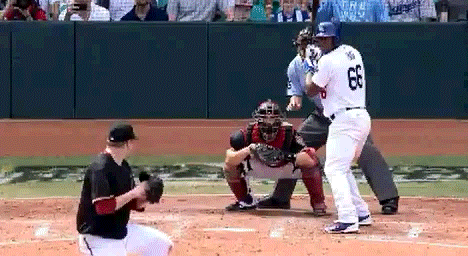 I know that's a frustration bat flip and not a true "I'm flipping this bat because I'm great" bat flip, but I like to think it was. Let me have this one.
Marcell Ozuna figures to be the next Marlins star on the move

Several relievers have signed in the last two days

Several teams are interested in the switch-hitting first baseman
Neshek and the Phillies are closing on a two-year contract

And the team that first drafted Cole is interested

This scout was SUPER into Jeter